MTI's All Together Now!

MTI's All Together Now!
A Global Event Celebrating Local Theatre
Get ready to perform this brand-new musical revue FREE-OF-CHARGE during the weekend of 12th - 15th November 2021
MTI's All Together Now!: A Global Event Celebrating Local Theatre is an opportunity for schools and theatres around the world to produce and perform locally an exclusive musical revue featuring songs from MTI's beloved shows.
MTI's All Together Now! will be entirely free-of-charge to license with no royalty or rental fees. Your organisation may license MTI's All Together Now! as a fundraiser for your theatre and perform it live, streamed, or a combination of both over a four-day period from 12th - 15th November 2021.
The revue features 15 slots for musical performances with multiple song options per slot, so theatres have flexibility with how they present the show. The option to choose from two or three fantastic songs for each slot allows producers to tailor the show to best fit their artistic/creative vision, the talents of their cast, and the composition of their audience.
You will also receive a number of MTI's innovative theatrical resources to help with rehearsals, marketing, and performances - all completely free!
Click here to view the full song list
MTI's ALL TOGETHER NOW! is licensed directly from our New York office. To apply please click Click Here
Please note: our usual vetting of applications for this event will not apply. We strongly encourage you to engage with your neighbouring groups to discuss the possibility of working together to mount a production.
All Together Now! by the Numbers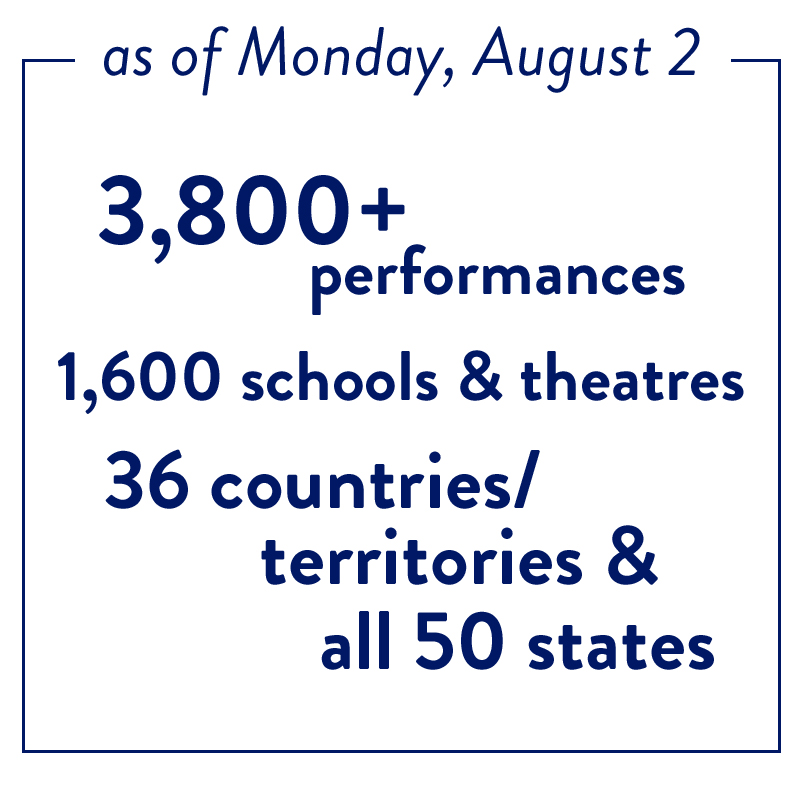 Listen to the available songs below: These recordings are intended as a reference and in some instances may not completely mirror the final licensed version of the score. The final materials and tracks provided by MTI will be extracted directly from the show materials and might contain slight differences. 
Are you doing #AllTogetherNowMTI? Tag and follow us @mtieurope on Instagram, Facebook, and Twitter.