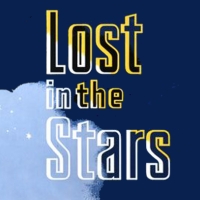 Billing
Music by

Book & Lyrics by
Based on ALAN PATON'S novel "Cry the Beloved Country".
Requirements
Under the terms and conditions of your organisation's Performance Agreement, the following credits must appear on all advertising (including websites) relating to the production. Credits must be reproduced faithfully in accordance with the following layout. No alterations or deletions can be permitted unless stated below.
Percentages listed indicate required type size in relation to title size.
LOST IN THE STARS
Music by KURT WEILL
Book & lyrics by MAXWELL ANDERSON
Based on ALAN PATON'S novel "Cry the Beloved Country".
The videotaping or other video or audio recording of this production is strictly prohibited.
Alan Paton's story of a black Anglican pastor who experiences a crisis of faith when the apartheid system is imposed in South Africa in the late 1940s.
Full Synopsis
ACT ONE
In Ndotsheni, South Africa in the 1940s (The Hills of Ixopo), Rev. Stephen Kumalo, a black Anglican priest, has not heard from his son Absalom since he left to look for work in Johannesburg a year earlier. Though untroubled at heart (Thousands of Miles), he decides to search for Absalom there. At the railroad station (Train to Johannesburg), he is greeted by Arthur Jarvis, a white lawyer who is a benefactor of his church, though Arthur's father James, a wealthy planter, frowns upon any association between the races. In Johannesburg, Stephen takes charge of his sister Gertrude's illegitimate son Alex. His brother John, a tobacconist and Zulu community organizer, tells him Absalom is no longer working in the mines. Stephen goes all over Soweto looking for Absalom (The Search) by day, renting a hovel in Shantytown by night. He learns Absalom has served jail time but is on parole living with his pregnant girlfriend Irina. At night in his rented hut, Stephen promises little Alex that he will soon take him to Ndotsheni where he will live more comfortably (The Little Gray House). Absalom, his cousin Matthew (John's son), and their friend Johannes party at a dive in Shantytown with their girlfriends (Who'll Buy). To raise money to support his expected child, Absalom joins a burglary plot with the other two; there seems to be little risk, because Johannes knows the house well. Still, the other two insist that Absalom bring a gun. Irina tries to dissuade him, to no avail. Later Rev. Kumalo and a parole officer find Irina at her hut in Shantytown but she tells them she doesnít know where Absalom is. Stephen disdains her loose morals but makes an alliance with her to find Absalom and keep him out of further legal jeopardy (Trouble Man). Absalom, Matthew, and Johannes, faces concealed, break into the home late at night. But a servant there recognizes Johannes's voice; then the homeowner–Arthur Jarvis, Stephen's patron–unexpectedly appears. Absalom fires his gun in panic and kills him. The three men flee (Murder in Parkwold). Later, the parole officer visits the home and tells Arthur's grieving father James that the police have arrested Johannes; outside in the street both the black and white communities are in turmoil (Fear!). The parole officer conducts Stephen to Absalom's jail cell, thus finally reuniting father and son. Stephen doesn't believe Absalom could be guilty of the crime, but Absalom confesses. Back in his Shantytown hut, Stephen struggles to explain all the bad news in a letter to his wife back in Ndotsheni. He prays to Tixo (God) fervently, but finds his bedrock faith shaken (Lost in the Stars).
ACT TWO
The Chorus sings of The Wild Justice that seems to thwart the impulses of civility. John Kumalo tells Stephen a good lawyer can get all three men off, but only if they conform their alibis. However, Absalom wants to "go straight" to make it up to his father. Stephen is anguished by this dilemma (O Tixo, Tixo, Help Me!). He decides to try to plead for mercy with the dead man's father, James Jarvis. He tells him that Absalom has confessed and that he fired his gun accidentally. Could Jarvis intervene so Absalom would receive a life sentence instead of death? Jarvis sternly refuses. Meanwhile, in her long absence from Absalom, Irina's affection for him has only deepened, despite the trouble he's brought her (Stay Well). She tells Stephen that she repents of her ways and will wait for Absalom no matter how long he's in prison. At the murder trial Johannes and Matthew both lie, offering shaky alibis. Absalom implicates the two of them and admits his own guilt, but says the gun was only meant to frighten the servant of the house. Yet the judge acquits Matthew and Johannes and sentences Absalom to death. As the Chorus keens (Cry, the Beloved Country), Stephen marries Absalom and Irina in the prison cell. Stephen returns home to Ndotsheni with Irina and Alex to wait out the judicial appeal. One day little Alex is overheard singing (Big Mole) by young Edward Jarvis. James Jarvis arrives to pick up his grandson and chides him for talking to Alex. Since the murder James's wife has also died and now he is left to take care of his orphaned grandson alone. But before they leave he overhears Stephen's voice from the pulpit inside his church and he decides to listen. Stephen is telling his congregation he must resign his pastorate, not only because they have lost their benefactor, not only because his own son has killed, but because Stephen has lost his own faith. His parishioners protest but resign themselves to the transience of life (Bird of Passage). The appeals have failed and the execution looms. At dawn Stephen, his wife Grace, and Irina await the dreaded hour when Absalom will be hanged far away in Pretoria (Four O'Clock). Suddenly James Jarvis knocks on the door. He has had a profound conversion. He tells Stephen he will step in for everything his son did to support Stephen's church and beseeches Stephen to stay on. Moreover, "I shall come and worship in your church if I wish to worship . . . Edward will come tomorrow to see Alex. He wants to come and play." Stephen agrees to stay on. The clock strikes four. Jarvis puts his arm around Stephen. They have become comrades in both grief and hope ("Thousands of Miles" reprise).