Billing
Adapted by

Music by

Lyrics by
Requirements
Under the terms and conditions of your organisation's Performance Agreement, the following credits must appear on all advertising (including websites) relating to the production. Credits must be reproduced faithfully in accordance with the following layout. No alterations or deletions can be permitted unless stated below.
Percentages listed indicate required type size in relation to title size.
Calamity Jane
Adapted by RONALD HANMER and PHIL PARk
From the stage play by CHARLES K. FREEMAN
after WARNER BROS. film written by JAMES O'HANLON
Lyrics by PAUL FRANCIS WEBSTER
Music by SAMMY FAIN
The videotaping or other video or audio recording of this production is strictly prohibited.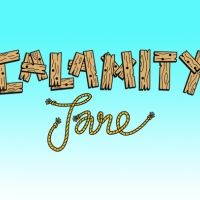 Included Materials
Production Resources
Stage adaptation of the popular Doris Day film featuring an Oscar nominated score.
Full Synopsis
We are in the wild, lusty, warm and humorous Old West of Deadwood City, Dakota Territory, 1876. Our story tells of famed Calamity Jane who dresses, rides and shoots like a man, but given the proper chance can be a beautiful girl who hankers for the love of a man. The man may be dashing Lt. Danny Gilmartin or the justly famed Wild Bill Hickok.
Fuss-budget Henry Miller, owner of Deadwood's hotel-bar-theatre, nervously awaits the arrival of the lovely eastern actress, Frances Fryer, to embellish his show. His niece, Susan, assures him that Calamity will bring the stagecoach to town on time. And so Calamity does to the sharp and singable beat of Deadwood Stage. But the "actress" turns out to be a young man, "Francis" and not "Frances" of the hoped-for opposite sex.
The show must go on, and "Millie" contrives to dress Fryer as a woman, but when the latter's wig falls off during the show, the local characters rise in noisy anger. Only Calam's trusty pistol restores order; also her promise that "Millie," to make amends, will import to Deadwood the east's most glamorous star, Adelaid Adams herself. The men are overjoyed, but Will Bill, Lt. Danny Gilmartin and "Millie" know full well that Adelaid Adams wouldn't be caught dead in Deadwood.
Calam, after a rip-roaring song-battle with Wild Bill expressed in I Can Do Without You, storms out headed for Chicago.
Calam mistakes Adelaid's maid, Katie Brown, for the great actress herself. Before she is aware of it, she is stage-coaching Katie back to Deadwood where Katie is greeted in high excitement as the famed Adelaid Adams.
Unnerved by Fryer when he becomes aware of her true identity, Katie breaks down at the opening show, and only Calam's masterful control of the audience saves the day. Bucked up by Calam, Susan and Fryer, Katie gives a show-stopping performance. All of Deadwood's hearts are won, not the least being the hearts of Danny and Wild Bill.
After a ball given in honor of the new commander at Fort Scully, Calam, dressed in Katie's finery, is the belle of the event. Her hour of triumph explodes when she finds Katie with Danny. In a fit of jealous anger she orders Katie to leave town, but Wild Bill corners her and reveals to the inner Calam that she is a real woman despite the fact she professes to act like a man. She learns that it was Bill all the time (not Danny) she loved. Her realization is expressed in the hauntingly lovely Secret Love which won an Academy Award.
CALAMITY JANE closes joyously with all of Deadwood's citizens attending a double wedding, that of Calam to Wild Bill and Katie to Lt. Danny Gilmartin. Two wonderfully humorous ballets and such numbers as Windy City, A Woman's Touch, Black Hills of Dakota, Adelaid and Higher Than A Hawk make CALAMITY JANE one of the most rewarding school and community group productions.