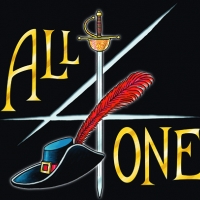 Billing
Book and Lyrics by

Music by
Requirements
Under the terms and conditions of your organisation's Performance Agreement, the following credits must appear on all advertising (including websites) relating to the production. Credits must be reproduced faithfully in accordance with the following layout. No alterations or deletions can be permitted unless stated below.
Percentages listed indicate required type size in relation to title size.
ALL 4 ONE - The Musical
Book and lyrics by KEVIN HEUSTON
Music by JOHN TRENT WALLACE
The videotaping or other video or audio recording of this production is strictly prohibited.
Included Materials
Production Resources
The dramatic story of a boy separated at birth from mother and twin brother and the excitement of a young man's aspirations to become a Musketeer.
Full Synopsis
Act One - France, 1625
D'Artagnan heads for Paris, his dream to join the King's Musketeers. Young & headstrong, he soon experiences the rougher edge to the city and somehow manages to pick separate duels with each of 'The Three Musketeers', namely Porthos, Athos & Aramis!
Meanwhile, a distraught Anne of Austria entrusts a dangerous errand to her lady in waiting, young Constance Bonacieux. Anne is secretly consumed with guilt over her forced condemnation of son King Louis XIV's twin brother Philippe to the harsh clutches of the Bastille. 
Come the day of the duels the Cardinal's men, led by Jussac, happen upon the scene and attempt to arrest the Musketeers. Clearly outnumbered, the Musketeers accept an offer of assistance from D'Artagnan who fights valiantly and with flair, eventually forcing Jussac and his guard into retreat. 
A furtive Bonacieux is accosted in the shadows by a still enraged Jussac, who has sordid plans for her! D'Artagnan is close by and sensing danger he beats off the drunken attacker. Bonacieux is safe and the two are immediately attracted to one another. 
The next day King Louis XIV is secretly delighted at the news of defeat for Jussac and implicitly, the Cardinal, so he appoints the protagonists to serve him personally as 'The Four Musketeers!'
Meanwhile, in the depths of the Bastille a despairing man asks so many questions and can find no answers....!
Act Two - Ten Years Later
Aramis is now Bishop of Vannes and he secretly visits a prisoner locked in the Bastille. Aramis informs him that he is in fact the younger brother to King Louis XIV of France and was plunged into obscurity by the order of his late father, King Louis XIII. Aramis vows to set Philippe free! 
Aramis requests a pardon directly from King Louis XIV for a youth named Seldon. With this pardon in hand, he makes a secretive social visit to the Governor of the Bastille, Baisemeaux, who is an old musketeer friend. Aramis gets Baisemeaux drunk, switches the original pardon for a forgery in the name of Philippe, who is duly released into his care. 
King Louis XIV is kidnapped from his bed and replaced by a nervous Philippe. Louis is returned to the Bastille claiming a mistake and takes the place of his long-suffering brother! 
The next morning is tense and emotional. Philippe's demeanor so contrasts with that of the unjust Louis and he finally sets eyes upon his mother for the very first time! D'Artagnan is increasingly curious and when Philippe signs a decree with the wrong hand, the deception is discovered! 
D'Artagnan is incensed and vows to stand by his 'true' king, Louis XIV. He allows his fellow to flee but immediately releases Louis, who banishes Philippe to a life spent in an iron mask and orders D'Artagnan to seek out and arrest the escaping conspirators.
D'Artagnan is poised for a dramatic showdown with fellows who have already joined forces and pledged to free Philippe! Will he choose King or Musketeers; does he pursue friends or foes? 
D'Artagnan now faces his greatest challenge!