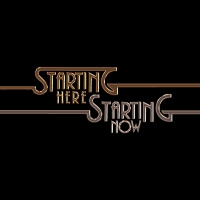 Starting Here, Starting Now
From first kiss to painful breakup, romantic relationships come full circle in this intimate revue.
Full Synopsis
Starting Here, Starting Now is a musical revue by Richard Maltby and David Shire. In addition to featuring songs that tell an individual story, the show has an overall arc that feeds into the main theme. While the show runs continuously from song to song without dialogue, there are subtle mini-plots provided by the authors to maintain a feeling of forward motion throughout the evening. As the actors perform the songs described below, it is the authors' hope that each number be played out as its own dramatic event; unfolding for the first time in front of the audience. It is this sense of emotional urgency and spontaneity that sets this revue apart from others.
Act One
"The World Is Love"
"Starting Here, Starting Now"
"A Little Bit Off"
"I Think I May Want To Remember Today"
"Beautiful"
"We Can Talk to Each Other"
"Just Across The River"
"Crossword Puzzle"
"Autumn"
"I Don't Remember Christmas"
"I Don't Believe It"
"I Hear Bells"
"I'm Going to Make You Beautiful"
"Please With Myself"
Act Two
"Hey There Fans"
"Girl of the Minute"
"A Girl You Should Know"
"Travel"
"Watching The Big Parade Go By"
"Flair"
"What About Today"
"One Step"
"Song of Me"
"Today Is The First Day of the Rest Of My Life"
"A New Life Coming"
"Curtain - Call Finale"
Show History
Inspiration
Not yet the successes they would each become, both together and individually, Maltby and Shire wrote many songs for shows that either closed out of town or were never produced following their graduation from Yale. In 1977 during the early years of the Manhattan Theatre Club, artistic director Lynn Meadow, a fellow Yale graduate came to the musical team and proposed they do an evening of their songs for the theater s cabaret. Their songs tend to be "story songs", each giving the character(s) a chance to explore a mini-drama, so the writers decided to assemble many of their songs into a revue, grouping them by theme, and thus the beginnings of Starting Here, Starting Now were born.
Productions
Starting Here, Starting Now is a musical revue with lyrics by Richard Maltby, Jr. and music by David Shire. With a cast of three and three musicians, the revue explores a variety of romantic relationships.
The revue was first produced at the Manhattan Theater Club in 1976 for a limited 3-week engagement under the title An Evening of Theater Songs by Maltby and Shire. In March 1977, the show then moved Off-Broadway to the Barbarann Theater Restaurant, where it ran for 120 performances. The cast featured Loni Ackerman, Margery Cohen and George Lee Andrews.
Following its Off-Broadway debut, Starting Here, Starting Now premiered in the London fringe in 1984 at the Orange Tree Theatre and then later in an Off-West End production in 1993.
The show has gone on to huge regional success, as well numerous other London productions and mountings in other international markets including South Africa and Sweden.
Cultural Influence
Cast recording from both the original 1977 Off-Broadway Cast and the original 1993 London Cast of Starting Here, Starting Now have had commercial releases.
Trivia
When Lynn Meadow came to Maltby and Shire about assembling some of their music into a revue for MTC, Richard Maltby was very much on board and David Shire was not. He wasn t sure discarded songs and music from musical flops would come together to create something great. Nonetheless he gave his consent but held the project at a distance until he arrived after the first week of rehearsals and realized the potential for the show, at which point he jumped fully onboard himself.
Barbara Streisand made several of the Maltby & Shire songs included in Starting Here, Starting Now famous when she recorded them in the 1960 s, including Autumn", "Starting Here, Starting Now" and "What About Today".

The title song of Starting Here, Starting Now was recorded by Barbra Streisand, and featured in her television special, Color Me Barbra.
Critical Reaction
''The songs work and the evening works& flows freely, naturally, effortlessly... Starting Here, Starting Now is a life-enhancing grab bag of super-songs that no longer have to look for a show. They self-sustainingly justify their own existence and give a 'special tingle' to ours. New York Times
"The wry lyrics of Richard Maltby Jr. combined with David Shire's buoyant music forge a fast-moving, ingratiating look at how love can go right, wrong or nowhere& four stars." - Chicago Theatre Beat
"Revivifying to hear sentiments like these, particularly when they're sung to the infectious tunes of David Shire." - LA Times
"Very charming and there's plenty here to enjoy." - Chicago Tribune
Grammy Award
1977
-
Best Cast Show Album,
Nominee
(lyrics by Richard Maltby, Jr. ; Music by David Shire)
Billing
Requirements
Under the terms and conditions of your organisation's Performance Agreement, the following credits must appear on all advertising (including websites) relating to the production. Credits must be reproduced faithfully in accordance with the following layout. No alterations or deletions can be permitted unless stated below.
Percentages listed indicate required type size in relation to title size.
STARTING HERE, STARTING NOW
Lyrics by

RICHARD MALTBY, JR.

Music by

DAVID SHIRE

 
Produced at Barbarann Theatre Restaurant, NYC by
Steve Abrams, Mary Jo Slater, Scott Mansfield and Morton Schwartz
The videotaping or other video or audio recording of this production is strictly prohibited.
Included Materials
| Item | Quantity Included |
| --- | --- |
| LIBRETTO/VOCAL BOOK | 8 |
| PIANO CONDUCTOR'S SCORE | 2 |
Production Resources
Resource
HOW DOES THE SHOW GO ON-10/CS
HOW DOES THE SHOW GO ON?
PRODUCTIONPRO
REFERENCE RECORDING
STREAMING LICENSE
VIDEO CONVERSATIONPIECE
VIRTUAL STAGE MANAGER
STANDARD ORCHESTRATION
| Instrumentation | Doubling |
| --- | --- |
| BASS | |
| DRUMS | BONGO , CHIMES , GLOCKENSPIEL , TRIM PARSIFAL BELLS , VIBRAPHONE , WOOD BLOCK |