Full Billing
Billing
Music by

Book and Lyrics by
Based on the DreamWorks Animation Motion Picture and the book by William Steig
Requirements
Under the terms and conditions of your organisation's Performance Agreement, the following credits must appear on all advertising (including websites) relating to the production. Credits must be reproduced faithfully in accordance with the following layout. No alterations or deletions can be permitted unless stated below.
Percentages listed indicate required type size in relation to title size.
Author Billing – Shrek JR.
In accordance with the Dramatic Performing Rights License, all advertising, such as posters and program covers, must include the show logo as provided in the ShowKit® Director's Guide and all of the following author billing.
It is a violation of your contract if you crop or edit the logo in any way. 
[Name of School]
Production of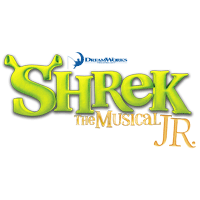 Based on the DreamWorks Animation Motion Picture and the Book by William Steig
| | |
| --- | --- |
| Book and Lyrics by | Music by |
| David Lindsay-Abaire | Jeanine Tesori |
Originally produced on Broadway by DreamWorks Theatricals and Neal Street Productions
Original Production Directed by Jason Moore and Rob Ashford. "I'm a Believer" by Neil Diamond
In addition, Producer agrees to place the following credits in all programs for the Play as follows (need not be on title page):
"I'm A Believer" (Neil Diamond) (c) 1966 Stonebridge Music, Foray Music. All rights administered by Sony/ATV Music Publishing LLC (SESAC), on behalf of Stonebridge Music, and by Foray Music (SESAC). All rights reserved. Used by permission.
If your program contains production staff bios then you shall include biographies of the Authors and the Original Directors in all programs of the Play. Biographies can be found on MTI's website at
http://www.mtishows.com/authorbios.
In advertisements of 1/4 page size or less or where only the title of the play, stars and/or producers billed above the title, critics quotes, ticket price scales, performance dates and venue are provided, the following "shortened billing" is permissible:
SHREK THE MUSICAL JR
please keep this page for your records
Video Warning
If you purchase a separate Video Licence to allow non-commercial video recording of this production, you must print the following in your programme: ANY VIDEO RECORDING MADE OF THIS PERFORMANCE IS AUTHORISED FOR PERSONAL, AT-HOME, NON-COMMERCIAL USE ONLY. THE SALE OR DISTRIBUTION OF SUCH RECORDING IS STRICTLY PROHIBITED UNDER COPYRIGHT LAW. If you do not purchase a separate Video Licence then you must print the following in your programme: The videotaping or other video or audio recording of this production is strictly prohibited.