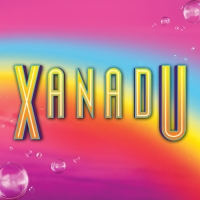 A Greek muse inspires love, laughter and the world's first Roller Disco in this 1980's glitter explosion.
Full Synopsis
The leader of the Muses, Clio, convinces her companions to inspire Sonny to create a great work of art. Since Muses are forbidden to declare their true nature to mortals, Clio decides that she will call herself "Kira", wear a costume including roller skates and leg warmers, and speak with an Australian accent.
On the Santa Monica Pier, Sonny is considering suicide due to artistic frustration. Kira arrives and convinces him that she believes in his talent ("Magic"). Instantly inspired, Sonny shares with Kira his dream of creating a roller disco.
When she returns to her sister Muses, Kira is accused by her elder sister Melpomene of falling in love with Sonny, and of desiring to create her own works of art, both of which are forbidden. Kira reveals that Zeus has informed her that she is destined to one day receive the gift of Xanadu, "the gift so grand that none of us truly knows what it is."
Once Kira has departed, two of the Muses, Melpomene and Calliope, express their jealousy of Kira and decide to curse her into falling in love with Sonny, thereby violating one of Zeus's rules ("Evil Woman").
Sonny and Kira soon locate a dilapidated auditorium that will be the perfect location for his roller disco. A sign on the old marquee reads "Xanadu", and Kira takes this as a sign from Zeus that her destiny approaches. The mutual attraction between Sonny and Kira increases ("Suddenly"). Sonny arranges to meet with the auditorium's landlord, real estate mogul and former big band musician Danny Maguire.
Danny is less than impressed by Sonny's request that he be given the old auditorium for free in order to open the roller disco. Danny reveals that he in fact built the theater in the first place, but never opened it. Kira strongly reminds Danny of his old dance partner, Tangerine ("Whenever You're Away from Me."). A flashback sequence reveals Kira dancing with Danny's younger self. We learn that Danny built the Xanadu theater for Tangerine. Danny's hesitation to open the theater due to concerns about the financial risks involved led Tangerine to leave him. Kira convinces Danny to give Sonny a chance.
That night, Sonny breaks into the theater so that he can see the place where his dream almost happened. Danny finds him there and the two men compare their visions for what Xanadu could have been ("Dancin'"). Danny offers to give Sonny and Kira 25% of the profit from Xanadu if Sonny can fix up the theater by the following sunset.
Sonny convinces Kira to help him draw up plans for the theater. Kira makes a drawing, which is the first time she has ever created anything. At that moment Calliope and Melpomene curse Kira and Sonny to fall in love ("Strange Magic") before sneaking away.
Kira's non-villainous sisters arrive and, under Sonny's direction, they help to transform the theater ("All Over the World").
Danny arrives as the theater's transformation is complete. Danny and Sonny agree to become partners. Kira begins to realize that she has helped create something and has fallen in love with Sonny, thereby violating the two fundamental Muse rules. She also realizes with some apprehension that "Xanadu" might not turn out to be the positive destiny she had expected, but might be some sort of impending punishment for her transgressions.
Hermes, a messenger from Zeus, arrives to remind Kira of the rules. Kira tells Sonny that she must leave him. Sonny pleads in vain with her not to go ("Don't Walk Away").
Melpomene, posing as a high-end real estate broker, offers to buy the theater from Danny. After some hesitation about betraying his partner, he agrees.
Kira returns to the mural and confesses to Melpomene and Calliope that she has fallen in love with a mortal. Sonny arrives, and Kira tells him everything, including the fact that her name is really Clio and that she is a Muse. Sonny doesn't believe any of this, and thinks Kira is crazy. Melpomene and Calliope reveal that they have cursed Kira, and that she is therefore not really in love with Sonny. Kira denies this, insisting that she really does love Sonny, but Sonny doesn't believe her. This causes Kira to become angry with Sonny ("Fool"). She goes on to confess to her sisters that she has broken all of Zeus's decrees, and that she intends to return to Mount Olympus to receive her just punishment. Sonny bids her a sad farewell ("The Fall"). Danny arrives to tell Sonny of his betrayal, but by this point Sonny doesn't even care.
Kira mounts the winged horse, Pegasus, and ascends to Mount Olympus ("Suspended in Time"). Seeing her, Danny and Sonny realize that Kira and Tangerine are one and the same person, and that Kira must have been telling the truth. Danny rushes off to save the theater while Sonny resolves to follow Kira to Mount Olympus.
On Mount Olympus (portrayed as a complete homage to the 1980s movie Clash of the Titans), Kira begs the gods for forgiveness. It is revealed that the curse placed on Kira by Melpomene and Calliope had no effect on her, and that she really does love Sonny. Zeus's wives sympathize with Kira and plead with Zeus on her behalf ("Have You Never Been Mellow").
Sonny arrives in Olympus and vows to fight the Gods to prove his love for Kira. Zeus is impressed by his courage. Kira states that she is willing to give up her powers and immortality to be with Sonny. Zeus agrees to make it so. He reveals that Sonny and Kira will receive the greatest gift possible for mortals - to love someone else and to create art. "That," he explains, "is Xanadu." ("Xanadu").
Show History
Inspiration
Xanadu is based on the 1980 cult classic film of the same name, which was, in turn, inspired by the 1947 Rita Hayworth film Down to Earth, a sequel to the 1941 movie Here Comes Mr. Jordan, which was an adaptation of the play Heaven Can Wait by Harry Segall. The title is a reference to the poem Kubla Khan, or A Vision in a Dream. A Fragment, by Samuel Taylor Coleridge. Xanadu is the name of the Chinese province where Khan establishes his pleasure garden in the poem.
Productions
With a book by Douglas Carter Beane and music and lyrics by Jeff Lynn and John Farrar, Xanadu was first given a workshop production and backers' audition at the Minetta Lane Theater in Greenwich Village, New York City, in January 2007.
The musical then began previews on Broadway on May 23, 2007, at the Helen Hayes Theatre and opened on July 10, 2007. Directed by Christopher Ashley with choreography by Dan Knechtges, it closed on September 28, 2008, after 49 previews and 513 performances. Kerry Butler and Cheyenne Jackson starred.
Following extended runs throughout 2009 at the La Jolla Playhouse in California, Drury Lane s Water Tower Place Theatre in Chicago, and the Asian premiere in Tokyo, the Xanadu tour ran successfully from December 7, 2009, to May 9, 2010.
Internationally the musical has run in Korea, the Philippines, and Australia as well as extensively throughout the US as such theatres as Arizona Theatre Company, TUTS, and Zach Theatre of Austin.
Cultural Influence
A Xanadu: Original Broadway Cast Recording was released by P.S. Classics on January 9, 2008.
Trivia
Xanadu was nominated for 4 Tony Awards, including Best Musical, and an additional 5 Drama Desk Awards, also including Outstanding Musical .
Jane Krakowski and Cheyenne Jackson led many intitial readings for the musical, but both had to bow out of the Broadway run due to scheduling conflicts with other projects.
James Carpinello was cast as Sonny and played the role during May and June previews. The actor injured his foot rollerskating during a rehearsal on June 12, 2007. Cast members Andre Ward and Curtis Holbrook alternated in the role of Sonny until Carpinello's replacement, the initial Sonny, Cheyenne Jackson, assumed the role on June 21, 2007.
Following its workshop production, producers were eyeing an Off-Broadway production at the Roxy for Xanadu, but when that property was sold and the Helen Hayes theatre reopened after renovations, producers leapt at the Broadway opportunity.
Critical Reaction
"...Outlandishly enjoyable stage spoof of the outrageously bad movie from 1980& there s so much silly bliss to be had." - New York Times
"Xanadu is so ridiculously brilliant, so lavish and sublime a confection that any set of adjectives you might come up with after a single viewing will more than likely be replaced by another set of ineffectual adjectives once you ve seen the show a second or third time." - The New Yorker
"Eureka! They've created a confection the actual Mount Olympus muses are likely smiling on this very minute." - TheatreMania.com
"One of those irresistible guilty pleasures. You'll have a grand time." - New York Theatre Guide
Connect
Billing
Book by

Music and Lyrics by

and
Based on the Universal Pictures film with a screenplay by Richard Danus & Marc Rubel
Requirements
Under the terms and conditions of your organisation's Performance Agreement, the following credits must appear on all advertising (including websites) relating to the production. Credits must be reproduced faithfully in accordance with the following layout. No alterations or deletions can be permitted unless stated below.
Percentages listed indicate required type size in relation to title size.
You agree to bill the Play and the Authors in all programs (on the title page), houseboards, displays and in all advertising and all paid publicity, in the following manner:
Specifically, you must bill the Play and the Authors as follows:
Book by
Music by
Lyrics by
Douglas Carter Beane

 (50%)

Jeff Lynne & John Farrar

 (50%)

Jeff Lynne & John Farrar

 (50%)
Based on the Universal Pictures film 
(37.5%)
Screenplay by Richard Danus & Marc Rubel
 (37.5%)
Originally produced on Broadway by Robert Ahrens, Dan Vickery,
Tara Smith/B. Swibel, Sara Murchson,/Dale Smith & Cari Smulyan 
(25%)
Notwithstanding the foregoing, in advertisements of 1/4 page size or less or where only the title of the play, performance dates and venue are provided, the following "shortened billing" is permissible:
XANADU
Book by Douglas Carter Beane
Music & Lyrics by Jeff Lynne & John Farrar
Based on the Universal Pictures film
Screenplay by Richard Danus & Marc Rubel
 
Additionally, you are not obligated to provide credit to any party if you utilize artwork title billing for your production of the Play. However, if you choose to provide credit in the artwork title billing to the director of the Play, or any of the Authors, or Universal Pictures, then the following credits must appear in the size indicated in relationship to the artwork title:
XANADU 
 (100%)
Book by

Music by

Lyrics by

Douglas Carter Beane 

(30%)

Jeff Lynne & John Farrar 

(30%)

Jeff Lynne & John Farrar 

(30%)
Based on the Universal Pictures film 
(15%)
Screenplay by Richard Danus & Marc Rubel 
(15%)

The following billing shall appear on or appurtenant to the "Staff Credit Page" of all programs for Producer's production of the Play and any other place where any other publisher and/or licensor of rights of musical compositions utilized in the Play receives credit:
"Xanadu," "All Over the World," "The Fall," "I'm Alive," "Evil Woman," "Don't Walk Away" and "Strange Magic" written by Jeff Lynne, published by EMI Blackwood Music Inc.
"Magic," "Suddenly," "Dancin'," "Suspended in Time," "Whenever You're Away From Me," "Fool" and "Have You Never Been Mellow" written by John Farrar, published by John Farrar Music.
The videotaping or other video or audio recording of this production is strictly prohibited.
Included Materials
| Item | Quantity Included |
| --- | --- |
| LIBRETTO/VOCAL BOOK | 15 |
| PIANO VOCAL SCORE | 2 |
Production Resources
Resource
HOW DOES THE SHOW GO ON-10/CS
HOW DOES THE SHOW GO ON?
KEYBOARD PATCH SOLUTIONS
KEYBOARDTEK
LOGO PACK
LOGO PACK DIGITAL
LOGO TEES SIX-PACK ADULT LARGE
LOGO TEES SIX-PACK ADULT MEDIUM
LOGO TEES SIX-PACK ADULT SMALL
LOGO TEES SIX-PACK ADULT X-LARGE
LOGO TEES SIX-PACK ADULT XX-LARGE
LOGO TEES SIX-PACK CHILD LARGE
LOGO TEES SIX-PACK CHILD MEDIUM
LOGO TEES SIX-PACK CHILD SMALL
PERFORMANCE ACCOMPANIMENT RECORDING
PRODUCTIONPRO-DIGITAL SCRIPT/SCORE
REHEARSAL ACCOMPANIMENT RECORDING
SCENE PARTNER
STAGE MANAGER SCRIPT
STAGE WRITE APPLICATION
TRANSPOSITIONS-ON-DEMAND
VIRTUAL STAGE MANAGER
STANDARD ORCHESTRATION
| Instrumentation | Doubling |
| --- | --- |
| DRUMS | BELL , DRUM SET , MARK TREE , SIREN WHISTLE |
| GUITAR | ACOUSTIC GUITAR , ELECTRIC GUITAR |
| KEYBOARD 1 | |
| KEYBOARD 2 | |