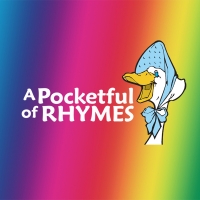 A Pocketful of Rhymes (Prince Street Players's Version)
Mother Goose is back in this musical revue featuring the greatest nursery rhymes set to the catchiest tunes.
Full Synopsis
A rocking chair sits on stage; on it are a bell and a book of Mother Goose rhymes. Suddenly, seven lively boys and girls greet us and they welcome us to a hootenanny of swingin' Mother Goose rhymes. Nobody really knows the true identity of Mother Goose, so the children present several theories. In the end, it doesn't matter who Mother Goose was, as her stories - which come from all over the world - have a universal, timeless appeal ("Pocketful Of Rhymes").
Mother Goose enters and rings the bell, calling the Pocketful of Rhymes to order. She takes roll call, introducing the cast. Then, she explains all of the different kinds of nursery rhymes there are: lullabies, prayers, love songs, wise sayings, riddles, tongue twisters, teaching rhymes, and games. The boys and girls play tag, bounce balls, ride a seesaw and hobbyhorses, all to Mother Goose rhymes ("Games, Riddles And Rhymes").
The kids beg Mother Goose to sing them a lullaby, and she sets the scene of a farmhouse at nightfall, a young boy in blue jeans and blue shirt falls asleep ("Little Boy Blue"). With the help of the boys and girls, Mother Goose explains the origins of some of her most famous rhymes. In the first, they learn about old-fashioned British money and blackbirds baked in a pie ("Sing A Song of Sixpence"). In the second, she explains an old American favorite about a dunce who got all dressed up and put trim on his hat while riding a pony ("Yankee Doodle Dandy"). While she's in a patriotic mood, Mother Goose wonders aloud if Betsy Ross, sewing the American flag, might have sung about the stars ("Twinkle, Twinkle Little Star").
Next, Mother Goose and the kids dramatize the tale about a wicked spider who lures a naive fly into its web with false flattery ("The Spider And The Fly"). They then perform another favorite as the mechanical figures of a musical clock, playing on percussion instruments and whistles ("Hickory, Dickory, Dock").
Mother Goose introduces the next segment, where she will use her nursery rhymes to tell the story of thousands of years of human civilization. With the help of the boys and girls, she imagines cavemen paying homage to "Old King Cole," the cat-worshipping Egyptians looking for "Pussy Cat" and "Jack and Jill" in ancient Greece climbing the Acropolis. She travels around the world: "Mary Had A Little Lamb" takes on a Far Eastern flavor, and "There Was An Old Woman" becomes a hora. In Europe, "Little Bo Peep" and "Simple Simon" become characters in a Louis XIV-era music box; "Jack Be Nimble" dances a flamenco; "Little Jack Horner" does a tarantella; the English make fun of "The Butcher, The Baker, The Candlestick Maker"; "Tom The Piper's Son" plays the Scottish bagpipes; Russian boatmen dance to "Hi Diddle Diddle"; and Austrians waltz to "Jack Sprat." Coming back home to America, Mother Goose and company charge through the ages: "Little Miss Muffet" is a flapper, "Humpty Dumpty" swings, and Elvis croons the "Little Girl Blues." Here, civilization comes to a rousing, dancing, rapping, aerobic fin-de-siècle finale ("Civilization and the Nursery Rhyme").
Finally, Mother Goose offers a new rhyme for her collection: a vision of the world in peace and harmony. All the boys and girls agree and join in ("One Big Happy Family").
Show History
Founded in 1965 by Jim Eiler, The Prince Street Players, Ltd. began a new era in Family Theatre. Starting in a loft on Prince Street in New York Cityas a repertory company and then expanding rapidly to include several touring companies playing East Coast "Stock" theatres and schools, the reputationquickly spread and Prince Street Players became a leading name in quality Family Theatre on Broadway and Network Television.
That reputation has been upheld for over thirty years as the Company performed to great acclaim both nationally and internationally. Although no longertouring, the Eleven Musical Shows are being performed worldwide. Scripts and scores are available to be leased for performance by schools and theatresthrough Music Theatre International. Each script sent out by MTI includes production notes, costume & set sketches and a wealth of information tohelp each presenter produce a polished theatre event. These musicals are designed to be performed by adults or young adults for family audiences, andare considered by many to be "simply the best around".
Billing
Book by

Music by

Lyrics by
Based on the traditional rhymes of Mother Goose
Requirements
Under the terms and conditions of your organisation's Performance Agreement, the following credits must appear on all advertising (including websites) relating to the production. Credits must be reproduced faithfully in accordance with the following layout. No alterations or deletions can be permitted unless stated below.
Percentages listed indicate required type size in relation to title size.
THE PRINCE STREET PLAYER'S LTD.
production of
A POCKETFUL OF RHYMES
a musical revue
Based on the Traditional Rhymes of Mother Goose
Book & Original Lyrics by

Jim Eiler

 

Music by

Jim Eiler and Jeanne Bargy

 

 
Including some traditional airs and folk songs
The videotaping or other video or audio recording of this production is strictly prohibited.
Included Materials
| Item | Quantity Included |
| --- | --- |
| LIBRETTO/VOCAL BOOK | 20 |
| PIANO CONDUCTOR'S SCORE | 2 |
Production Resources
Resource
HOW DOES THE SHOW GO ON-10/CS
HOW DOES THE SHOW GO ON?
LOGO PACK
REFERENCE RECORDING
STREAMING & REMOTE LICENSE