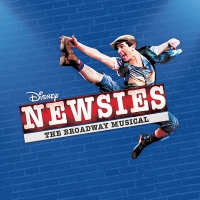 Adapted from the Disney film, New York City's newsboys seize the day when they strike against unfair working conditions.
Full Synopsis
Act One
New York City – Summer – 1899. Dawn breaks over the tenement rooftop where Jack Kelly, a brash and charismatic boy of 17, tells his younger pal Crutchie of his desire to journey west to find a better life ("Santa Fe - Prologue"). The church bells signal the beginning of the work day for the newsies of New York. Jack and Crutchie climb down to join the proud and enthusiastic band of newsboys, who are always looking for a prime selling spot and a way to make an old story sound new ("Carrying the Banner"). Wiesel and the tough Delancey brothers open the window of The World to distribute papers to the newsies for fifty cents per hundred. Two new boys appear in line: Davey, 16, and his adorable 10-year-old brother, Les. Sensing an opportunity, Jack suggests a partnership. High above in his imposing office, publisher Joseph Pulitzer complains that circulation and profits are down, meaning fewer people are being influenced by his agenda. He decides to raise the newsies' price, forcing them to sell more papers to earn a living ("The Bottom Line").
Later that day, Jack takes Davey and Les to a burlesque theater to evade Snyder, a crooked man who runs The Refuge, a juvenile jail from which Jack once escaped on the back of Governor Teddy Roosevelt's carriage. Jack introduces his partners to the theater's owner and star, Medda Larkin, who shows off Jack's impressive scenery painting. The boys then settle in to watch her perform  ("That's Rich").Up in a box during the next number ("Don't Come a-Knocking"), Jack discovers a pretty girl who brushed him off that morning, a reporter who's reviewing the show for The Sun and has no time for his advances. Taken by her beauty and pluck, he sketches her face on a piece of newsprint ("I Never Planned on You") and then disappears, leaving the drawing behind.
The next morning, the newsies are shocked by the price hike, which William Randolph Hearst has also adopted at The Journal. Barely able to feed themselves and with nowhere to turn, they start to panic. Jack instinctively rebels, refusing to work until the price comes back down. Taking Jack's lead, the newsies get swept up in the moment, declare themselves a union and decide to strike ("The World Will Know"). Convening in nearby Jacobi's Deli, the newsies plan to spread the word to the other boroughs, especially Brooklyn, home of Spot Conlon, whose tough reputation is legendary. The girl reporter – byline Katherine Plumber – appears and promises to get their story in The Sun if they give her the scoop. Jack is skeptical, but he doesn't want to let the girl get away again, so he agrees to help. Alone and nervous in front of her typewriter, Katherine begins to write her story ("Watch What Happens").
Only a few newsies have assembled to strike the next day, and none from the other boroughs. Jack urges Davey to convince the frightened kids not to back down. When scabs arrive to take the newsies' place, Jack asks them to stand in solidarity with all the city's working children who are being exploited. The scabs throw down their papes, just in time for Katherine and her photographer to snap a photo ("Seize the Day"). But soon the newsies are surrounded by goons and engage in a fierce fight. When the cops arrive and start beating on the kids, they run. Snyder's appearance scares Jack away, but not before he sees Snyder take down Crutchie and carry him off to The Refuge. Reaching the temporary safety of his rooftop, Jack paces, guilty about his role in the tragedy and longing for escape ("Santa Fe - Reprise"). 
Act Two
The next morning, the beaten and discouraged newsies are sitting in Jacobi's deli when Katherine arrives and shows them their photo on the front page of The Sun. Their sudden fame cheers them up and ignites their dreams ("King of New York"). At The Refuge, Crutchie pens a letter to Jack encouraging him and the newsies to stay strong and to protect one another like a family ("Letter from the Refuge"). Backstage at Medda's theater, Davey, Katherine, and Les find Jack alone and ashamed, painting a backdrop. Despite the newsies' story "above the fold" and plans for a rally, Jack doubts their prospects until his partners convince him to double-down and see this strike through ("Watch What Happens - Reprise"). 
Discovering the headline "Newsies Stop The World," a furious Pulitzer seeks to obliterate the root of the defiance. Snyder describes Jack's criminal past and escape from The Refuge. Just then, a cocky Jack arrives to announce the newsies' rally. Pulitzer scoffs and assures Jack that no paper will cover it; therefore it won't exist. He then reveals his daughter, Katherine, who left a life of luxury to write for a rival paper, and Snyder, who emerges from the shadows. Amid Jack's shock and panic, Pulitzer offers a choice: go to prison or renounce the strike and leave New York with pockets full of cash. The Delanceys escort Jack to the cellar to ponder his decision on an old printing press ("The Bottom Line - Reprise").
That evening, Spot Conlon crosses the bridge with his gang to join newsies from every borough at Medda's theater for the rally ("Brooklyn's Here"). When Jack appears, they leap to their feet, but their cheers turn to boos as he warns them they are no match for Pulitzer and advises them to go back to work. Jack takes his payoff money at the door and exits quickly. On his rooftop, Jack finds Katherine going through his drawings of The Refuge's bleak conditions. He snatches them from her and they argue fiercely until she kisses him. Katherine then shares her plan to have the newsies distribute her article, "The Children's Crusade," which denounces the exploitation of working kids of the city and calls for a citywide strike. Before heading to an unused press Jack has recently discovered, they share their hope in one another ("Something to Believe In"). Katherine and Jack join the newsies in the cellar of The World and work through the night to print and distribute The Newsies Banner ("Once and For All").
The next morning, Pulitzer's office is flooded with angry calls from every corner of the city, which has been effectively shut down by its children. Jack, Davey and Spot barge in and return Pulitzer's blackmail money ("Seize the Day - Reprise"). Pulitzer refuses to back down until Governor Roosevelt appears with Katherine and Jack's drawings of The Refuge. His leverage quickly eroding, Pulitzer compromises by agreeing to buy back unsold papers. Outside, Jack announces the end of the strike. Crutchie appears amid the jubilation, followed by a handcuffed Snyder, who is led off to jail. Despite his dreams for Santa Fe, Jack realizes that the newsies are his family and Katherine gives him something to believe in – so he's staying put for now ("Finale").
Show History
Inspiration
On July 20, 1899, the newsboys of New York City refused to sell Joseph Pulitzer's New York World and William Randolph Hearst's New York Journal to protest the higher prices they were charged for newspapers. Their strike, which lasted nearly two weeks before it was resolved through a historic compromise, was a harbinger for child labor reforms in the 20th century.
To pay tribute to the newsboys' story, The Walt Disney Company premiered Newsies on April 10, 1992. The live-action musical feature was written by Bob Tzudiker and Noni White, and directed by Kenny Ortega, with songs by Alan Menken and Jack Feldman. After receiving generally poor reviews, the movie quickly disappeared from theaters.
On October 14, 1992, Disney released Newsies on VHS and Beta home video. The movie premiered on the Disney Channel as part of a "Free Spring Preview" on March 28, 1993. In the following years, home viewing and the advent of the Internet spawned a passionate fan base.
Productions
Due to overwhelming requests to license a live-stage version of Newsies, Disney Theatrical Productions put the title into development. Harvey Fierstein joined the project as book writer in 2009, and Menken and Feldman complemented their original film score with several new songs. Developmental readings took place in New York City in 2010.
On September 25, 2011, a test production of Newsies: The Musical opened at Paper Mill Playhouse in Millburn, New Jersey; it was directed by Jeff Calhoun and choreographed by Christopher Gattelli. Positive critical and "Fansie" responses opened unexpected doors.
Newsies began previews of a limited Broadway run at the Nederlander Theatre on March 15, 2012, and opened on March 29. After the show sold out its initial 12 weeks and a 10-week extension, Disney announced an open-ended run on May 16, 2012. The musical earned eight 2012 Tony Award® nominations and won for Best Original Score and Best Choreography.
Newsies ran for 1,004 performances on Broadway, playing to over 1.2 million audience members before closing on August 24, 2014. Preparations began immediately for a North American tour, which opened in Schenectady, New York on October 11, 2014. The tour played over 784 performances to over 1.5 million audience members before closing on October 2, 2016 in Austin, Texas.
Critical Reaction
"Like the publishers of successful tabloids throughout history, the team behind Newsies knows exactly what it's selling. And it presents the full range of its merchandise early and brazenly [...] keep coming at us in full-speed-ahead phalanxes, fortified by every step in a Broadway-by-the-numbers dance book." - The New York Times
"Stop the presses! Disney has produced a winning, high-energy musical for family audiences that doesn't include a single flying witch, talking animal, or dancing teacup." - Entertainment Weekly
"A cheerfully old-fashioned mix of a stirring story with a catchy score." - NJ.com
"Rousing songs by Alan Menken and Jack Feldman, high-energy dance numbers, an appealing cast and an uplifting story make this reconceived version one of Disney Theatrical's most entertaining new properties in years [...] Newsies adheres to a time-honored Disney tradition of inspirational storytelling in the best possible sense." - Hollywood Reporter
"[A] barnstorming, four-alarm delight. [...] Not since Wicked has there been a big-tent, family-friendly Broadway musical that gets so much so right. [...] The Alan Menken - Jack Feldman score pleasingly blends music-hall orchestral swing and power pop, and Feldman's lyrics are more graceful than you'd expect from a show aimed primarily at tweens. Harvey Fierstein's book brims with sass and big-hearted sympathy for the underdog. [...] Old-fashioned book musicals with pluck, brains and heart are so rare these days; when you see one as blissfully fun as Newsies, it belongs on the front page in 72-point type." - TimeOut New York
"Newsies delivers with wit and heart, stick-in-your-head melodies and dazzlingly athletic choreography." - USA Today
"There are lots of musicals that inspire and stimulate. Only one makes you want to rush outside to buy a newspaper, join a union and hug someone from the Occupational Safety and Health Administration. [...] Fierstein has nicely built into the plucky David-versus-Goliath story a romance - something the film didn't really have - between Jack, the leader of the strikers, and Katherine, a reporter with a hidden past who is desperate to leave fluffy features and cover hard news." - The Huffington Post
"Sparked by a star-making performance from Jeremy Jordan, a tunefully friendly score from Alan Menken and Jack Feldman, and high-leaping choreography by Christopher Gattelli, Newsies is Disney's happiest outing since The Lion King. [...] Librettist Harvey Fierstein, too, has punched up his joke book, providing a breezy if simplistic framework." - Variety
Tony® Award
2012
-
Original Score,
Winner
(Jack Feldman, Alan Menken)
2012
-
Scenic Design of a Musical,
Nominee
(Sven Ortel, Tobin Ost)
2012
-
Best Actor in a Musical,
Nominee
(Jeremy Jordan)
2012
-
Best Musical,
Nominee
(Newsies)
2012
-
Book Of A Musical,
Nominee
(Harvey Fierstein)
2012
-
Choreography,
Winner
(Christopher Gattelli)
2012
-
Direction Of A Musical,
Nominee
(Jeff Calhoun)
2012
-
Orchestrations,
Nominee
(Daniel Troob)
Connect
Billing
Music by

Lyrics by

Book by
Based on the Disney film written by Bob Tzudiker and Noni White.
Requirements
Under the terms and conditions of your organisation's Performance Agreement, the following credits must appear on all advertising (including websites) relating to the production. Credits must be reproduced faithfully in accordance with the following layout. No alterations or deletions can be permitted unless stated below.
Percentages listed indicate required type size in relation to title size.
The (Licensee)
Production of
Disney's
NEWSIES
Music by

ALAN MENKEN

Lyrics by

JACK FELDMAN

Book by

HARVEY FIERSTEIN
Based on the Disney Film written by Bob Tzudiker and Noni White
Originally produced on Broadway by
Disney Theatrical Productions
The following credits shall be included in the program on the title page, and shall be no less than 40% of the regular title, and if there is no regular title, then no less than 16% of the logo or artwork title, and in all events 80% of the size of the credit to the authors:
Orchestrations by Danny Troob
Incidental Music & Vocal Arrangements by Michael Kosarin
Dance Arrangements by Mark Hummel
The billing to you must be in the form specified above, including the words "Production of" below your billing, which shall be visually contiguous with the title, all so that the audience is informed that you are the producer. Your billing shall be no less than 50% of the size of the logo or artwork title, as measured by the proportion of the average size of your name to the largest letter in the logo or artwork title. The name "Disney's" shall be in plain type font, shall be no more than 33% of the title, as measured by the proportion of the size of the "D" in "Disney" to the size of the largest letters in the title, and in no event may you duplicate the Broadway logo or title nor the logo and the title from the Disney film "Newsies" (the "Film"), although, you separately may license the right to use the stage license logo (the "License Logo"). If Disney shall provide a License Logo to License, then Licensee shall use such logo exactly as provided, including fonts. If you elect not to purchase the License Logo, than you shall submit your logo or artwork title for approval by Disney prior to any public use thereof. The size of the credit to the Authors and to Disney Theatrical Productions shall be on a single line and no less than 50% of the regular title, and if there is no regular title, then no less than 20% of the logo or artwork title. The size of the credit to the authors, Bob Tzudiker and Noni White shall be no less than 75% of the size of the Authors.
SHORTFORM BILLING FOR LEAFLETS AND CLASSIFIED ADVERTISEMENTS
(Point sizes must be in same proportion as set forth for full billing above):
The (Licensee's)
Production of
Disney's
NEWSIES
A Musical based on the Disney Film
The following credits shall be included in the program on the title page, and shall be no less than 40% of the regular title, and if there is no regular title, then no less than 16% of the logo or artwork title, and in all events 80% of the size of the credit to the authors:
Orchestrations by Danny Troob
Incidental Music and Vocal Arrangements by Michael Kosarin
Dance Arrangements by Mark Hummel
The videotaping or other video or audio recording of this production is strictly prohibited.
Included Materials
| Item | Quantity Included |
| --- | --- |
| LIBRETTO/VOCAL BOOK | 32 |
| PIANO CONDUCTOR'S SCORE | 1 |
| PIANO VOCAL SCORE | 1 |
| PRODUCTION HANDBOOK DIGITAL | 1 |
| SONG PACKET | 1 |
Production Resources
Resource
"NEWSIES" CAP (PACK OF SIX)
CUSTOMIZABLE SHOW POSTER
CUSTOMIZABLE SHOW POSTERS
FULL SCORE VOL. 1 OF 4
FULL SCORE VOL. 2 OF 4
FULL SCORE VOL. 3 OF 4
FULL SCORE VOL. 4 OF 4
HOW DOES THE SHOW GO ON-10/CS
HOW DOES THE SHOW GO ON?
KEYBOARD PATCH SOLUTIONS
LOGO PACK DIGITAL
LOGO TEES SIX-PACK ADULT LARGE
LOGO TEES SIX-PACK ADULT MEDIUM
LOGO TEES SIX-PACK ADULT SMALL
LOGO TEES SIX-PACK ADULT X-LARGE
LOGO TEES SIX-PACK ADULT XX-LARGE
LOGO TEES SIX-PACK CHILD LARGE
LOGO TEES SIX-PACK CHILD MEDIUM
LOGO TEES SIX-PACK CHILD SMALL
MARKETING TOOL KIT
ORCHEXTRA
PERFORMANCE ACCOMPANIMENT RECORDING
PRODUCTIONPRO
REFERENCE RECORDING
REHEARSAL ACCOMPANIMENT RECORDING
REHEARSCORE APP
SCENIC PROJECTIONS-ANIMATED
SCENIC PROJECTIONS-STILL
STAGE MANAGER SCRIPT
STREAMING LICENSE
TRANSPOSITIONS-ON-DEMAND
VIDEO LICENSE
STANDARD ORCHESTRATION
| Instrumentation | Doubling |
| --- | --- |
| BASS | ELECTRIC BASS |
| CELLO | |
| DRUMS | DRUM KIT , MARK TREE , SHAKER , TAMBOURINE , TRIANGLE , WOOD BLOCK |
| GUITAR | ARCHTOP , BANJO , ELECTRIC GUITAR , NYLON ACOUSTIC , SOLID BODY ELECTRIC , STEEL ACOUSTIC |
| KEYBOARD 1 | |
| KEYBOARD 2 | |
| PERCUSSION | BASS DRUM , BELL TREE , BONGOS , CABASA , CHIMES , CONGA , COWBELLS , FIELD DRUM , MARK TREE , MEDIUM SHAKER , MOUNTED CASTANETS , ORCHESTRA BELLS , PIATTI , PICCOLO SNARE DRUM , RATCHET , SIREN WHISTLE , SMALL TRIANGLE , SPLASH CYMBAL , SUSPENDED CYMBAL , TAM TAM , TAMBOURINE , TEMPLE BLOCK , TIMPANI , VIBRASLAP , WOOD BLOCKS , XYLOPHONE |
| REED 1 | ALTO SAXOPHONE , CLARINET , FLUTE , PICCOLO , SOPRANO SAXOPHONE |
| TROMBONE | BASS TROMBONE , TENOR TROMBONE |
| TRUMPET | FLUGELHORN , TRUMPET |
| VIOLIN | |