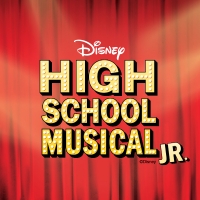 Disney's High School Musical JR.
We're all in this together in Disney Channel's smash hit musical phenomenon featuring the students of East High.
Full Synopsis
On the front steps of East High, it's the first day after winter break ("Wildcat Cheer"). The Jocks, Brainiacs, Thespians and Skater Dudes find their cliques, recount their vacations and look forward to the new year ("Start of Something New"). In Ms. Darbus' homeroom, basketball team captain, Troy, discovers that Gabriella, a girl he met singing karaoke on his ski trip, has just enrolled at East High. When he calls her, the eccentric drama teacher quickly confiscates all cell phones and assigns detention. Between classes, Gabriella and Troy look at the audition sign-up for the school musical, but the drama diva, Sharpay, discourages them. At basketball practice, Troy tries to shake his desire to sing at the urging of his best friend, Chad ("Get'cha Head in the Game"). Taylor, the science club president, discovers Gabriella's intelligence and encourages her to join the upcoming science decathlon.
While the students learn how to "act" at detention, Troy's dad, Coach Bolton, faces off with Ms. Darbus – his star players can't miss practice because Friday is the championship game! The next day, hopeful Thespians strut their stuff for Ms. Darbus ("Auditions"), but they're no match for Sharpay and her twin brother, Ryan ("What I've Been Looking For"). Troy and Gabriella arrive too late to audition, but Kelsi, the show's composer, plays the song her way and encourages them to sing ("What I've Been Looking For – Reprise"). Ms. Darbus overhears and gives them a callback, which turns the school order upside down! Sharpay is furious, and some students try to break out of their cliques during lunch ("Stick to the Status Quo"). The Jocks and Brainiacs devise a plan to trick Troy and Gabriella into forgetting about the musical and committing to their respective competitions ("Counting on You"). Thinking each one has betrayed the other, Gabriella and Troy are crushed.
Against Ryan's advice, Sharpay convinces Ms. Darbus to move the callbacks to conflict with the science decathlon and championship game. Chad and Taylor put their heads together to make things right again ("We're All in This Together"). While the Brainiacs and Jocks compete, Sharpay and Ryan pull off a polished callback performance ("Bop to the Top"). When Taylor's laptop shuts down the electricity, Troy and Gabriella rush to the theatre, but are too late for their callback. When the East High students arrive to rally behind them, Ms. Darbus relents, and they sing their way into the lead roles ("Breaking Free"). Back at the gym, the Wildcats win the game, and the whole school comes together as winners ("We're All in This Together – Reprise," "High School Musical Megamix – Bows").
Connect
Curriculum Connection
Billing
Book by

Songs by

Songs by

Music Adapted, Arranged and Produced by

Based on a Disney Channel Original Movie written by
Requirements
Under the terms and conditions of your organisation's Performance Agreement, the following credits must appear on all advertising (including websites) relating to the production. Credits must be reproduced faithfully in accordance with the following layout. No alterations or deletions can be permitted unless stated below.
Percentages listed indicate required type size in relation to title size.
Author Billing – Disney's High School Musical JR .
In accordance with the Performance Agreement, all advertising, such as posters and programme covers, must include the show logo as provided in the ShowKit® Director's Guide and all of the following author billing.
It is a violation of your contract if you crop or edit this logo in any way.
The [Licensee]
Production of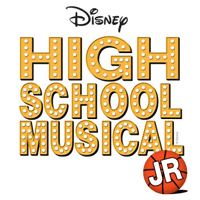 Book by
David Simpatico
Based on a Disney Channel Original Movie Written by
Peter Barsocchini
Songs by
Matthew Gerrard & Robbie Nevil
Ray Cham, Greg Cham & Andrew Seeley
Randy Petersen & Kevin Quinn
Andy Dodd & Adam Watts
Bryan Louiselle
David N. Lawrence & Faye Greenberg
Jamie Houston
Music Adapted, Arranged and Produced by
Bryan Louiselle
The billing to you must be in the form specified above, including the words "Production of" below your billing, which shall be visually contiguous with the title, all so that the audience is informed that you are the producer. Your billing shall be no less than 50% of the size of the logo or artwork title, as measured by the proportion of the average size of your name to the largest letter in the logo or artwork title. In no event may you duplicate the tour logo or title nor the logo and title from the Disney Channel original movie "High School Musical."
Video Warning
If you purchase a separate Video Licence to allow non-commercial video recording of this production, you must print the following in your programme: ANY VIDEO RECORDING MADE OF THIS PERFORMANCE IS AUTHORISED FOR PERSONAL, AT-HOME, NON-COMMERCIAL USE ONLY. THE SALE OR DISTRIBUTION OF SUCH RECORDING IS STRICTLY PROHIBITED UNDER COPYRIGHT LAW. If you do not purchase a separate Video Licence then you must print the following in your programme: The videotaping or other video or audio recording of this production is strictly prohibited.
Included Materials
Production Resources
Resource
ACTOR'S BOOK TENPACK
CUSTOMIZABLE SHOW POSTER
FAMILY MATTERS
FAMILY MATTERS (PACK OF 10)
HOW DOES THE SHOW GO ON-10/CS
HOW DOES THE SHOW GO ON?
LOGO TEES SIX-PACK ADULT XX-LARGE
STREAMING & REMOTE LICENSE DISNEY