Requirements
Under the terms and conditions of your organisation's Performance Agreement, the following credits must appear on all advertising (including websites) relating to the production. Credits must be reproduced faithfully in accordance with the following layout. No alterations or deletions can be permitted unless stated below.
Percentages listed indicate required type size in relation to title size.
By arrangement with Three Knights Limited, The Shubert Organisation Inc 
and Robert Fox Limited
25%
[Name of Licensee] presents
25%
CHESS
100%
The Musical
15%
BENNY ANDERSSON
50%

TIM RICE
50%

BJORN ULVAEUS
50%
The credit to the authors shall be in the same font, size and colour and shall, in no event, be smaller than the size of the names of any other creative credit. The credit to the authors shall appear in the same format and order set out above.
The following credit shall appear on the same line as the sound designer, but follow the credits for the scenic, costume and lighting designers:
Original Orchestrations
and Arrangements by
Anders Eljas
The videotaping or other video or audio recording of this production is strictly prohibited.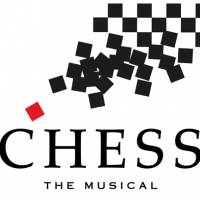 At the height of the Cold War, two chess masters meet in Bangkok to battle for the world championship, but their greatest contest is for the love of one woman.