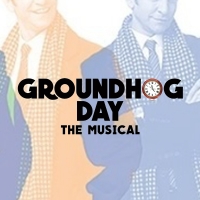 No billing information found.
Included Materials
Production Resources
The hilarious film turned West End and Broadway hit will have audiences returning again, and again, and again...
Full Synopsis
After the ("Overture"), we begin before sunrise in Punxsutawney, PA, where Groundhog Day is officially commemorated every February 2nd ("There Will Be Sun"). Phil Connors – a veteran weatherman for a Pittsburgh TV station – makes the annual trek to Punxsutawney to see the groundhog reveal his annual "prediction" about the arrival of spring. As alone as he is jaded and sarcastic, Phil can barely conceal his contempt for the assignment or for his crew, in particular the enthusiastic Rita Hanson, an associate producer posted on her first remote broadcast to cover the groundhog festivities ("Day One"). Once their work is done, a major snowstorm descends on Punxsutawney. There is no way out of town so Phil is trapped there for the night.
When he awakes the next morning, Phil gradually discovers he is in a mysterious time warp: it is Groundhog Day all over again – in every maddening detail, just as it occurred the day before ("Day Two"). And Phil is the only one who knows it. Every time he goes to bed, the cycle repeats itself. He encounters, again and again, the same cast of small-town characters and their quirks, saying and doing the same things that infuriated him the day before ("Day Three"). He seeks help, or an explanation, from various local "experts" but to no avail ("Stuck"). Seeking solace in a local dive bar, a sudden realization dawns on him... because every day resets to the start, it means there are no consequences, no regrets, no hangovers. For the first time in his life he is free ("Nobody Cares"). He embarks on a hedonistic spree ("Philandering") which ultimately leads him back to the one thing still out of reach, Rita Hanson ("One Day").
Act Two
As Act II begins ("Entr'acte") we are given a surprise moment alone with local girl Nancy Taylor , a fling from one of Phil's more lecherous rewinds of the day ("Playing Nacny"). Meanwhile, the monotony of Phil's daily rewind and his many futile attempts to win Rita have driven him to the end of his rope. He does everything he can think of to end it all ("Hope"), but attempt after attempt to kill himself simply results in him awakening, back in his bed, without a scratch.
He turns once again to Rita, but this time simply as a friend, and tells her of his predicament ("Everything About You"). Finding it understandably hard to believe, she nevertheless sees an array of positives in such an unlikely scenario ("If I Had My Time Again"), and when they spend the whole day together Phil starts to learn how to see things differently ("Everything About You - Reprise").
Phil's daily encounter with an annoying old acquaintance, Ned Ryerson, suddenly takes a different turn ("Night Will Come"), and he begins to understand Ned's catch phrase "You gotta love life." Now everything shifts and Phil tries to use the hours in the day to help as many of the locals as possible with random acts of kindness ("Philanthropy"). Without realizing it, he becomes the sort of man that Rita could fall in love with, and when they meet up at the Groundhog Gala ("Punxsutawney Rock"), she astonishes him by bidding the contents of her purse for one dance together ("Seeing You"). Phil and Rita break through into tomorrow as the sun rises, at last, on February 3rd.