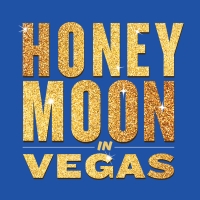 A romantic romp from New York to Vegas to Hawaii, this musical about saying "I Do" is non-stop, laugh-out-loud fun.
Full Synopsis
Act One
A row of storefronts in Park Slope, Brooklyn. In the rain, our hero, Jack Singer, cannot contain his enthusiastic love for Betsy Nolan, his girlfriend of five years whom he plans to make his fiancée ("I Love Betsy").  He arrives at Betsy's brownstone, and the two head to Tiffany's to procure an engagement ring. Jack's anxiety manifests in a flashback to his mother's deathbed, where she made him swear that he would never get married... or else be cursed ("Never Get Married"). Overcome with fear and anxiety, Jack runs out of Tiffany's, leaving a devastated Betsy behind.
Back in Park Slope, Jack babbles over his discomfort, assuring Betsy that his mother's curse is so close to being done. Betsy has heard this all before and is growing understandably more impatient ("Anywhere but Here"). Jack impulsively announces that they will fly to Las Vegas the next morning and get married immediately.
Arriving at the jam-packed casino of the Milano Hotel, Buddy Rocky, a suave nightclub singer, entertains an enthusiastic crowd ("When You Say Vegas"). Tommy Korman, a gambler in his mid-fifties, and his aide-de-camp, Johnny Sandwich, arrive at the casino.
Later, by the pool of the Milano Hotel, Tommy and Johnny reminisce about Tommy's deceased wife, Donna, who adored sunbathing at this very pool ("Out of the Sun").
Jack and Betsy arrive at the hotel and casino, and Tommy and Johnny instantly notice the uncanny resemblance that Betsy has to Tommy's deceased wife. In their suite, Betsy talks Jack into going to the chapel immediately. As she changes her outfit, an invitation arrives, requesting that Jack take part in Tommy's poker game. Jack takes this opportunity to avoid the marriage at hand ("The Invitation / Forever Starts Tonight").
While Jack meets the other players in Tommy's game, a joyous Betsy strolls through the shopping arcade, searching for an actual wedding dress ("Betsy's Getting Married / The Game"). The heated poker game ended in a crushing loss against Jack, who ended up borrowing – and losing – $58,000 from Tommy. Tommy plays the nice guy and offers Jack a way out of his debt: allow Tommy a weekend alone with Betsy. ("Come to an Agreement").
A furious Betsy cannot believe this predicament. She agrees to meet Tommy – with Jack – for one drink. Tommy charms Betsy and reveals that he plans to spend their weekend together in Hawaii. Betsy likes this idea, as both a way to escape Vegas and a way to get back at Jack. Terrified of losing Betsy, Jack tries to stop their departure but is unsuccessful ("Do Something").
Act Two
Betsy is relaxing at Tommy's luxurious beachfront Hawaiian home, enjoying the escape from the mainland and the relationship struggles that she temporarily left behind. Meanwhile, Jack is trying to get to Betsy ("Hawaii / Waiting for You"). Tommy's son, Alex, arrives with his wife, Rose, and newborn baby.
Jack finally lands in Hawaii and frantically attempts to reach Betsy while being greeted by the Hawaiian staff ("Ev'ryday Is Happy in Hawaii"). The staff is actually in the employ of Tommy, who cannot relax, knowing that Jack is there. The staff, including a seductive local named Mahi, finds ways to stall Jack's mission ("Friki-Fraki").
Tommy and Betsy continue to get to know each other over drinks and begin to dance to the music of some local singers ("You Made the Wait Worthwhile"), while Jack and Mahi head to the Garden of Disappointed Mothers to break the curse.
Back at the beach house, Tommy and Betsy enjoy dessert while Betsy is becoming even more inebriated. Tommy lies and tells Betsy that this "arrangement" was not the result of a $58,000 deficit, but rather only $800. Betsy is enraged and impulsively decides to marry Tommy back in Vegas and move on with her life ("A Little Luck").
Jack and Mahi arrive at the garden to break the curse, and Jack pleads with his dead mother to lift the hex ("The Garden of Disappointed Mothers").  To do so, he must prove his love and win back Betsy's heart ("Isn't That Enough").
Unfortunately, Tommy and Betsy have already arrived at the airport, where we discover that Alex and Rose were actually con-people, paid by Tommy to act like his son and daughter-in-law. To make matters worse, the flight to Vegas has closed, and Jack must stow away on a flight with a slew of Elvis impersonators ("Airport Song").
Betsy begins to question the reality of the situation and seeks solace at the gym. Meanwhile, Jack is onboard the flight with the Elvis Impersonators and learns that they will soon be skydiving over Las Vegas at midnight ("Higher Love"). Tommy tries to rush the ceremony, but Betsy has some concerns ("I've Been Thinking"). Tommy rushes the skeptical Betsy to the ceremony and offers her a million dollars in cash to marry him. She is disgusted, and the two are separated by the arrival of the sky-diving Elvii ("Elvii in Flight").  Jack and Betsy reunite, embrace and get married on the spot ("Honeymoon in Vegas / Finale").
Show History
Inspiration
Honeymoon In Vegas is a musical based on the 1992 film of the same title. It has a book by Andrew Bergman and music and lyrics by Tony winner Jason Robert Brown. Bergman also wrote and directed the original 1992 film. The story follows Jack Singer, who finally decides to marry his girlfriend Betsy in Las Vegas despite his deep-rooted fear of commitment based on a supposed curse placed upon him by his deceased mother. When a wealthy gambler enters the equation and threatenshis relationship with Betsy, Jack's gamophobia turns into jealous insanity as he attempts to regain the woman he loves.
Productions
The initial workshop of Honeymoon In Vegas was held in October of 2011 with a cast featuring T.R. Knight and Tony Danza.
Initial plans to premiere the musical in Toronto in 2012 were put on hold due to scheduling issues. On October 6, 2013, Honeymoon In Vegashad its official world premiere at the Paper Mill Playhouse in Milburn, NJ and played through October 27, 2013.
Honeymoon In Vegas began previews on November 18, 2014 at the Nederlander Theatre on Broadway and officially opened to critical and audience acclaim on January, 15 2015. The cast starred Tony Danza as Tommy Korman, Rob McClure as Jack Singer and Bryn O'Malley as Betsy Nolan. The show closed on April 5th, 2015 after 66 previews and 93 performances.
In June of 2015 it was announced that a North American tour of Honeymoon In Vegas, starring Tony Danza, would begin in 2016.
Cultural Influence
Universal Music Enterprises released an original cast recording nationwide on January 13, 2015. Jeffrey Lesser and composer Jason Robert Brown produced it.
In a special episode of the TLC show Say Yes To The Dress, Honeymoon In Vegas star Brynn O'Malley brought along co-stars Tony Danza and Rob Mcclure to help her choose the perfect dance-friendly wedding dress to wear in the show.
The cast of Honeymoon In Vegas performed on The Today Show and The Macy's Thanksgiving Day Parade.
41 cast members of Honeymoon In Vegas reunited with composer Jason Robert Brown on June 8, 2015 to celebrate Brown's yearlong residency at SubCulture in NYC.
Critical Reaction
"Wake up and smell the mai tais, New York. Las Vegas has come calling on you. And it's on such good behavior, you'd be a churl not to embrace it as if it were a long-lost sibling." - The New York Times
"Jason Robert Brown (a Tony winner last year for The Bridges Of Madison County) deserves huzzahs for making the kicky musical cocktailof catchy melodies and clever lyrics that drive this show. The songs smartly change tempo and tone, shifting from classic showtunes to jazzy stylings toisland breeziness as the action moves from New York to Nevada to Hawaii." - New York Daily News
Drama Desk Award
2015
-
Outstanding Sound Design of a Musical,
Nominee
(Drew Levy, Scott Lehrer)
2015
-
Outstanding Featured Actress in a Musical,
Nominee
(Nancy Opel)
2015
-
Outstanding Lyrics,
Nominee
(Jason Robert Brown)
2015
-
Outstanding Music,
Nominee
(Jason Robert Brown)
2015
-
Outstanding Orchestrations,
Nominee
(Jason Robert Brown, Don Sebesky, Larry Blank, Charlie Rosen)
Connect
Billing
Book by

Music and Lyrics by
Based on the Castle Rock Entertainment motion picture of the same name
Requirements
Under the terms and conditions of your organisation's Performance Agreement, the following credits must appear on all advertising (including websites) relating to the production. Credits must be reproduced faithfully in accordance with the following layout. No alterations or deletions can be permitted unless stated below.
Percentages listed indicate required type size in relation to title size.
You agree to bill the Play, the Authors and the underlying rights owners whenever and wherever the title of the Play appears, including without limitation, in all programs (on the title pages), houseboards, and displays and in all advertising and all paid publicity, in the following manner:
HONEYMOON IN VEGAS (100%)
| | |
| --- | --- |
| Book by | Music & Lyrics by |
| ANDREW BERGMAN  (50%) | JASON ROBERT BROWN (50%) |
Based On The Castle Rock Entertainment Motion Picture

ADDITIONAL TITLE PAGE BILLING:
"In addition, you agree that the following billing shall appear on the first page of credits in all programs for the Play:
"Originally Produced on Broadway by
Dena Hammerstein Roy Gabay Rich Entertainment Group
Dan Farah Metro Card
King's Leaves Dan Frishwasser Leslie Greif/Thom Beers Susan Dietz & Lenny Beer
Howard Hoffman/Anna Czekaj Important Musicals Sharon Karmazin L.G. Scot t Martin Markinson
in association with
Ken Greiner/Ruth Hendel Krauss
Freitag/Boyle
Koenigsberg Rick
Steiner
/
Bell-Staton
Group
Pam
Pariseau
and Paper Mill Playhouse
and
"The World Premiere of Honeymoon in Vegas was produced in 2013 by Paper Mill Playhouse,in Millburn New Jersey, Mark S. Hoebee, Producing Artistic Director,Todd Schmidt, Managing Director."
SHORTENED BILLING:
In advertisements of 1/4 page size or less, and online and mobile ads where in each case only the title of the play, performance dates and venue are provided and in outdoor advertising, transit and taxi ads and marquees where no other person is billed, the following "shortened billing" is permissible:
HONEYMOON IN VEGAS
BIOS:
In addition you agree to include the Owners' and Castle Rock's approved biographies in all programs of the Play that include biographies of any other creative team members.
Bios can be found on the MTI website at www.mtishows.com/authorbios
The videotaping or other video or audio recording of this production is strictly prohibited.
Included Materials
| Item | Quantity Included |
| --- | --- |
| LIBRETTO/VOCAL BOOK | 24 |
| PIANO VOCAL SCORE | 2 |
Production Resources
Resource
FULL SCORE VOL. 1 OF 4
FULL SCORE VOL. 2 OF 4
FULL SCORE VOL. 3 OF 4
FULL SCORE VOL. 4 OF 4
HOW DOES THE SHOW GO ON-10/CS
HOW DOES THE SHOW GO ON?
LOGO PACK
PRODUCTIONPRO-DIGITAL SCRIPT/SCORE
REFERENCE RECORDING
STAGE MANAGER SCRIPT
STAGE WRITE APPLICATION
STANDARD ORCHESTRATION
| Instrumentation | Doubling |
| --- | --- |
| BASS | |
| DRUMS | |
| GUITAR | |
| HORN | |
| PIANO | |
| REED 1 | |
| REED 2 | |
| REED 3 | |
| TROMBONE | |
| TRUMPET | |
| TRUMPET 2 | |
| VIOLIN | |
| VIOLIN 2 | |
| VIOLIN 3 | |