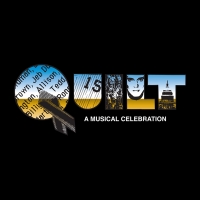 Quilt, A Musical Celebration
A thoughtful and moving collage of stories and songs for, from and about the NAMES Project AIDS Memorial Quilt.
Full Synopsis
Quilt is a collage of stories for, from, and about The NAMES Project AIDS Memorial Quilt, a powerful piece of spontaneous art. The structure of the show reflects the structure of the AIDS Quilt, by incorporating many individual stories into one tapestry that tells an overall story. The quilt has over 43,000 individual panels and is still growing. Each panel measures 3 x 6 feet. The musical celebration, Quilt, examines one 32-panel block of the quilt. Quilt is not a documentary. While it is based on real people and real situations, creative license has been used, and stories and events have been combined, shaped, and altered.
Act One
A folded Quilt block is seen. A Reader enters and begins the opening ceremony of The Names Project AIDS Memorial Quilt - reading names shown on the panels that will be concerned in the show, in order of appearance. As the names are read, lights come up on eight Quilt unfolders dressed in white who perform the unfolding ritual with the Quilt Block ("Something Beautiful").
Wes enters and sits on the floor writing on the edge of a Quilt Block with a magic marker. The date is October 11, 1987. He writes to his lover, Philip, who has recently died, welcoming him to eternity. He talks of how he initially had to be dragged to Washington to see the Quilt, but now he is happy he went.
The Quilt Block goes up in the air. The cast enters.
An alarm goes off and Wes reenters. He looks upward and talks to Philip, and tells him how much he misses him. Wes is also HIV+ and confesses that he has considered killing himself, but that making a memorial panel for Philip has given him a reason to live a while longer. He has also started volunteering at the Gay and Lesbian Center Quilting Workshop. Although this is fulfilling, he still has a prescription that can end his life and he looks ahead when he can join Philip.
We then see Karen in a bathrobe. She is thirty-five, attractive, intelligent, thin and hyper ("Karen's Song 9:00 AM"). She carries two large shopping bags and transfers items meaninglessly from one bag to the other. She is finishing a call on a cordless phone and is finding out that the Gay and Lesbian Center is open and is offering its Quilting Workshop. She plans on going to the center, but is very nervous since she isn't gay. She realizes that she needs to go, though.
Next, we meet multiple family members who struggle with implications of their relative's deaths from AIDS. Cordelia Winthrop, a stately and regal 70-year-old woman, wonders how her granddaughter, Allison, could have died of AIDS coming from such a fine family background. Cordelia commissioned this Quilt panel for her granddaughter; however, she won't let the family name be put on it. Then, there's Vernon Duke, a Southern dirt farmer, who wonders how his son, Jeb, could have contracted AIDS living in a small Southern town. A robber at an all-night gas station shot him down and killed him. When he was dying, he asked that his body be given to help others. Unfortunately, those body parts contained HIV. There is also Maria, a Hispanic woman whose son, Hector, received one of Jeb's kidneys. Hector has since died. Finally, we meet Mrs. Polaski, who comes from a small town in Ohio, and thinks that it is all gossip when people say that her son, Christopher, died of AIDS. He had died of pneumonia.
The next vignette features Mikey and the Back-Up Boyz ("Hot Sex"). Mike is a straight boy who loves his hot sex. His teacher wants him to go on a field trip to see the AIDS Quilt. He has no interest in going but if he doesn't he'll fail his class, so he decides to go. When he sees the Quilt, he notices a panel that is dedicated to Peggy Parker, the first girl with whom he ever had sex. She moved away two years ago from his town. This terrifies Mike, but he still tries to talk himself out of it, saying that maybe it was a different Peggy Parker. Mike believes that because he is not a drug user or a homosexual he is safe from AIDS.
The story shifts back to Wes, who is at The Quilt Workshop at the Gay and Lesbian Center talking once again to Philip. It is Gay Pride Day and Wes is organizing things at the Center while celebrating the 19th anniversary of Judy Garland's death. He thinks back on how life was for all gays before and after Stonewall and how far everyone has come. Wes isn't feeling that well and is going in to have some routine blood work. He senses that he might be joining Philip soon.
Paul, a photographer, enters with a camera around his neck ("At a Distance"). He made a panel for his brother Peter. Paul had a hard time accepting his brother's life-style and only came to terms with it after his death. In an attempt to make amends for time lost, he began volunteering at GMHC as a buddy, providing ongoing support to people with AIDS. The person he supported was Juan Ramirez, an ex-IV drug user.
Elsewhere, Todd's lover is discovered sitting on a stool wearing a sweatshirt with 'Todd's Lover' written on it. He is sewing on a Quilt panel. Todd's mother enters, wearing a sweatshirt that reads 'Todd's Mother.' She moves a stool to the opposite end of the table picking up another Quilt Panel, which she works on. The two remember Todd very fondly ("Todd's Song"). When they finish, they hold up the panels and embrace each other.
Back at the Quilting Workshop at the Gay and Lesbian Center, Karen's materials are spread on the table in a disorganized fashion. Though she has calmed down a bit, she is still nervous ("Karen's Song 12:00 Noon"). She cut her finger while sewing and had to have stitches. She is now using super glue and in her anxious state ends up gluing her hands together.
We go to a Quilt panel that shows Peter Pan and Tinkerbell. It reads: Peter Brown. Timmy Bell, a short, energetic, 20-something skater enters and reminisces about his late friend Peter, a fellow skater who played Peter Pan. Peter helped Timmy accept his sexuality, and even though Peter is gone and Timmy misses his best friend, he has learned to go on with his life. He, too, is HIV+ but is trying his best to live as long as he can with the best attitude possible.
The next Quilt panel says, 'Ralph - Ever the Best of Friends.' Stewart appears. He is a neat and orderly antique dealer in his early 50's. He lives in Atlanta, Georgia ("Living with the Little Things"). He sings about Ralph, who left him a cat and bird to care for. Even though these animals drive him crazy, he is grateful to have them, for a part of Ralph lives on through his pets.
There is also a panel with a top hat, tap shoes, and music in the design. It is slightly tacky and homemade. The name reads: Tommie Dee. Mr. and Mrs. D'Angelo, a middle class couple in their 40's, appear and talk about their son who moved to New York to appear on Broadway ("Victim of AIDS"). He told them he was gay, and they learned to accept both him and his lover, Dave. One night they called home to tell Tommie's parents that they were negative for the AIDS virus and were going out to celebrate. That evening, Tommie and Dave were violently attacked by gay bashers. Dave got away and called the police but Tommie was killed. Beside his body in blood was written: AIDS FAGS DIE.
The next Quilt Panel design is a door. It reads 'Daniel G. Morris - 7J - The Boy Next Door.' Jane Woodward, a larger-than-life nurse, appears. She remembers Danny, her neighbor and friend ("Couldja Do Me A Favor?"). They both did favors for each other all the time and when he got AIDS she did more for him than every before. When he was in the hospital near the end, he asked her for one last favor; to smother him. She thought about it, and then looked at the morphine drip. As a registered nurse, she knew what to do, and she did it. She just hopes that Danny is happier now and that he puts in a good word for her.
We move back to Wes at the Quilt workshop. The calendar says July 2, 1988. It is 10:00 AM. Wes is not doing well. As he talks to Philip, he tells him how his blood counts are not very good. He feels that the time has come. He takes out some pills and starts putting them in his mouth. Suddenly, sirens shriek and red lights flash. Wes looks up startled.
Act Two
The second act begins with Mr. Leonce, dressed as Shirley McClaine from Postcards from the Edge. He tells a story of his friend Mr. Marco and how he made sure that he had the funeral he would have wanted, despite the funeral director's wife's objections.
Back at the Gay and Lesbian Center, Karen is at a sewing machine ("Karen's Song 3:30 PM"). She is now calm; Wes taught her how to sew and everything seems to be going along rather smoothly. She remembers Tedd, a psychiatrist she worked along with at Cabrini Medical Center after she got her MBA from NYU. He was a handsome man, and she was wild about him. He even asked her out; however, every time he took her home, he kissed her like a sister. When she finally made him dinner at her house and confronted him about his aloofness, he told her that he was gay, but swore her to secrecy. He wasn't very comfortable with his sexuality and didn't want anyone to know the truth. So, Karen became his official date. Unfortunately, he didn't let anyone know that he was sick until it was too late. He disappeared to another hospital and Karen didn't see him until he was already in a coma.
The sound of crickets is heard and a flashlight flashes. A candle is lit. Katy, age 12, is revealed reading a letter she has written to the Quilt People. Her Uncle, Billy, was her favorite Uncle. Her parents, however, didn't approve of him and the other man he brought around, Uncle Bruce. Finally, he stopped coming for visits, and he and Katy just wrote letters and cards. Eventually, the letters and cards stopped, too. Her parents told her that he died of AIDS. She saw the Quilt on television and made a panel for Uncle Billy using crayons. In the panel are the words that Uncle Billy wrote to her in a poem. Uncle Billy appears behind her and the two of them share these special words ("I Believe In You").
The Quilt Panel shows a Hawaiian shirt of tropical flowers. It reads: Chris Polaski, 1958-1986. Toby enters. Toby remembers Chris and how he loved him so. He also talks of how he asked Chris's mother for help with the Quilt, but she refused. She even had everything Chris left to Toby taken away claiming that no dark-skinned roommate has rights to anything of her son's. She is Chris's family. She even called the Quilt Project and asked that Chris's name be removed from the Quilt.
Meanwhile, Wes is working on a panel. He's doing better than he thought. His T-cells are 800 not 80. The doctor made a mistake in reading the report. He talks to Philip and tells him that he will probably be staying down on earth for a while longer. In fact, he has met a younger guy, Timmy, who has been hanging around the Gay and Lesbian Center. He, too, is HIV+. Wes is learning to trust Timmy and is quite happy.
The next panel is a child's artwork. It says 'My Bri-Bri-Brian. 4 years old.' Roberta Andrews steps forward ("In the Absence of Angels"). She is a former actress who was in a few made-for-television movies, but got married and left the business. She is a PWA -- Person With AIDS -- who received it during a transfusion and passed it on to her child when she gave birth to him. Unfortunately, this has been kept a secret because her husband is an esteemed state politician. She tried to use her connections to reach people of power. She even met President Reagan at the White House. She then decided to tell her story to the press and start The Coalition For Parents and Children With AIDS. She and her husband waited for the fallout, but their coalition became a huge success.
On the Quilt Panel are a business suit, white shirt, and tie. The name is 'Michael Frank.' Charles enters, dressed in a Brooks Brothers suit. He tells his story ("Autobiography"). For a long time, he denied his sexuality and bought into the conservative corporate system. He hid his relationship with Michael and life seemed perfect until Michael got sick. Then he found out the harsh reality of prejudice. Michael lost his job and eventually died. Now, Charles, has decided to not sit back anymore. He is member of ACT-UP and fights back against discrimination.
Finally, we see Karen's finished Quilt Panel. On the top are letters that spell out 'Dr. Tedd.' The panel is an attractive mess. She proudly admires her handi-work ("Karen's Song 10:00PM"). She is happy and thinks she will be back next week at the Center to help out others in need. Wes talks with Philip about Karen, saying how she finished her panel without killing herself and others in the process. Wes looks forward to the day when his panel can be put on the Quilt.
Wes then brings all of the characters on stage to celebrate what happens when they forge one voice out of many ("One Voice"). When they come together in this way, they can change the world.
Show History
Inspiration
Quilt, A Musical Celebration is a musical based on stories for, from and about the Names Project Aids memorial quilt. The Quilt was created in 1987. The physical quilt is described on its website as a poignant memorial, a powerful tool for use in preventing new HIV infections, and the largest ongoing community arts project in the world.  

Quilt, A Musical Celebration is mostly a collection of stories accompanied by songs that represent panels in the quilt.
Bookwriter John Schak says of the inspiration for Quilt, A Musical Celebration, The four people who did this [created Quilt], Jim Morgan, Michael Stockler, Merle Hubbard, and me [sic], had since the early '80s lost innumerable friends to the crisis... So, the immediate impetus on our part was in some way to acknowledge this to the world in the format that we were all accustomed to expressing ourselves in, which was theater.

Productions
Quilt began as a workshop at Musical Theatreworks in 1991. It was first produced in 1992 at The University of Maryland and the Smithsonian Institute. Since then, the piece has been produced many times regionally. Notably, the University of Michigan cast from a 1993 production featured a number of actors who went on to have professional theater careers in New York, including Erin Dilly.

In 2009, Wingspan Arts produced a reading of Quilt, A Musical Celebration that featured new material.
Cultural Influence
The physical Names Project Aids Memorial Quilt was on display at the National Mall when the first production of Quilt, A Musical Celebration happened at University of Maryland and The Smithsonian Institute.
Co-bookwriter John Schak was familiar with the staff at MTI and MTI CEO Freddie Gershon because he had worked on The Fantasticks, which is represented by MTI. Because of this connection, Schak was able to give the material to Gershon to review Gershon immediately recognized the cultural significance of Quilt, A Musical Celebration, and added it to the MTI catalogue, despite the show not having had a Class A production. This decision resulted in many schools and community groups producing Quilt, A Musical Celebration, and allowed the message of the show to reach far and wide.
When Quilt, A Musical Celebration first premiered, many Americans were still very uninformed about the AIDS epidemic. John Schak related an anecdote that is illustrative of the culture importance of the show. He said,  someone wrote a letter to the original producer stating that they would not bring their family to see a show about homosexuals. The producer wrote back a 2-page letter basically saying, 'you need to understand what's going on here, and I think maybe you really would want to come and see this show. 

Trivia
In an attempt to help the piece reach the widest possible audience, there are several modifications for the actual script to make Quilt, A Musical Celebration producible for theater companies of all sizes, as well as ways to work around controversial material to make the piece workable in all communities.
Quilt, A Musical Celebration was bookwriter/lyricist Jim Morgan s idea, and originally co-bookwriter John Schak was the director. However, the production opportunity at University of Maryland came with a director attached, so Schak became a co-bookwriter.
Lyricist/bookwriter Jim Morgan was a winner of the illustrious Kleban Award for lyric writing.
Critical Reaction
"If anything good rises from AIDS, it's to remind us why we live. This musical does that, again and again." -The Orlando Sentinal


"A touching portrayal that encompasses a full range of emotions and lifestyles." -Las Vegas Review-Journal
Billing
Book by

Music by

Lyrics by
Based on stories from and about The NAMES Project AIDS Memorial Quilt
Requirements
Under the terms and conditions of your organisation's Performance Agreement, the following credits must appear on all advertising (including websites) relating to the production. Credits must be reproduced faithfully in accordance with the following layout. No alterations or deletions can be permitted unless stated below.
Percentages listed indicate required type size in relation to title size.
A Musical Celebration
Stories
For, From and About
The NAMES Project AIDS Memorial Quilt
Lyrics by

JIM MORGAN

Music by

MICHAEL STOCKLER

Book by
Puppet show Conceived with Lynnie Raybuck
25%
Originally Produced by The University of Maryland in conjunction
with The Smithsonian Institution's Museum of Natural History
The videotaping or other video or audio recording of this production is strictly prohibited.
Included Materials
| Item | Quantity Included |
| --- | --- |
| LIBRETTO/VOCAL BOOK | 28 |
| PIANO CONDUCTOR'S SCORE ACT 1 | 2 |
| PIANO CONDUCTOR'S SCORE ACT 2 | 2 |
Production Resources
Resource
HOW DOES THE SHOW GO ON-10/CS
HOW DOES THE SHOW GO ON?
PRODUCTIONPRO
REFERENCE RECORDING
SOUND EFFECTS RECORDING-DIGITAL
TRANSPOSITIONS-ON-DEMAND
STANDARD ORCHESTRATION
| Instrumentation | Doubling |
| --- | --- |
| KEYBOARD 1 | |
| PERCUSSION | BELL TREE , BONGO , CONGA , GLOCKENSPIEL , KIT , TAMBOURINE , TEMPLE BLOCKS , TRIANGLE , VIBRAPHONE , WOOD BLOCK |
| PIANO | |