National Theatre's Follies opens to rave reviews
National Theatre's Follies opens to rave reviews
The National Theatre production of Follies has opened to rave reviews. The production, which runs until January 2018 is directed by Dominic Cooke. The stellar cast of 37 includes Tracie, Bennett, Janie Dee and Imelda Staunton who are accompanied by an orchestra of 21.
Including such classic songs as Broadway Baby, I'm Still Here and Losing My Mind, Stephen Sondheim's legendary musical is staged for the first time at the National Theatre.
Michael Billington, The Guardian
★★★★★
"It is quite simply breathtaking. Cooke gives every character a shadow-self but takes the duality theme even further by reminding us that each of the main characters is really two people. Imelda Staunton is unforgettable as Sally, presenting us at first with a cheerily smiling soul: her delivery of "In Buddy's Eyes", in which Sally self-deludingly believes she is adored by her husband, had a radiant happiness that brought a lump to my throat. By the end, as she sings the Gershwin-influenced "Losing My Mind", Staunton shows that Sally is a lovelorn wreck as her voice seems to dissolve on the song's final syllable.
The danger of Follies is that it can easily succumb to nostalgia, a tribute to a vanished showbiz glamour. But, while Vicki Mortimer's design combines theatrical debris and peacock splendour and Bill Deamer's choreography evokes the period precision of classic dance routines, the production never lets you forget the astringent sadness beneath the spectacle."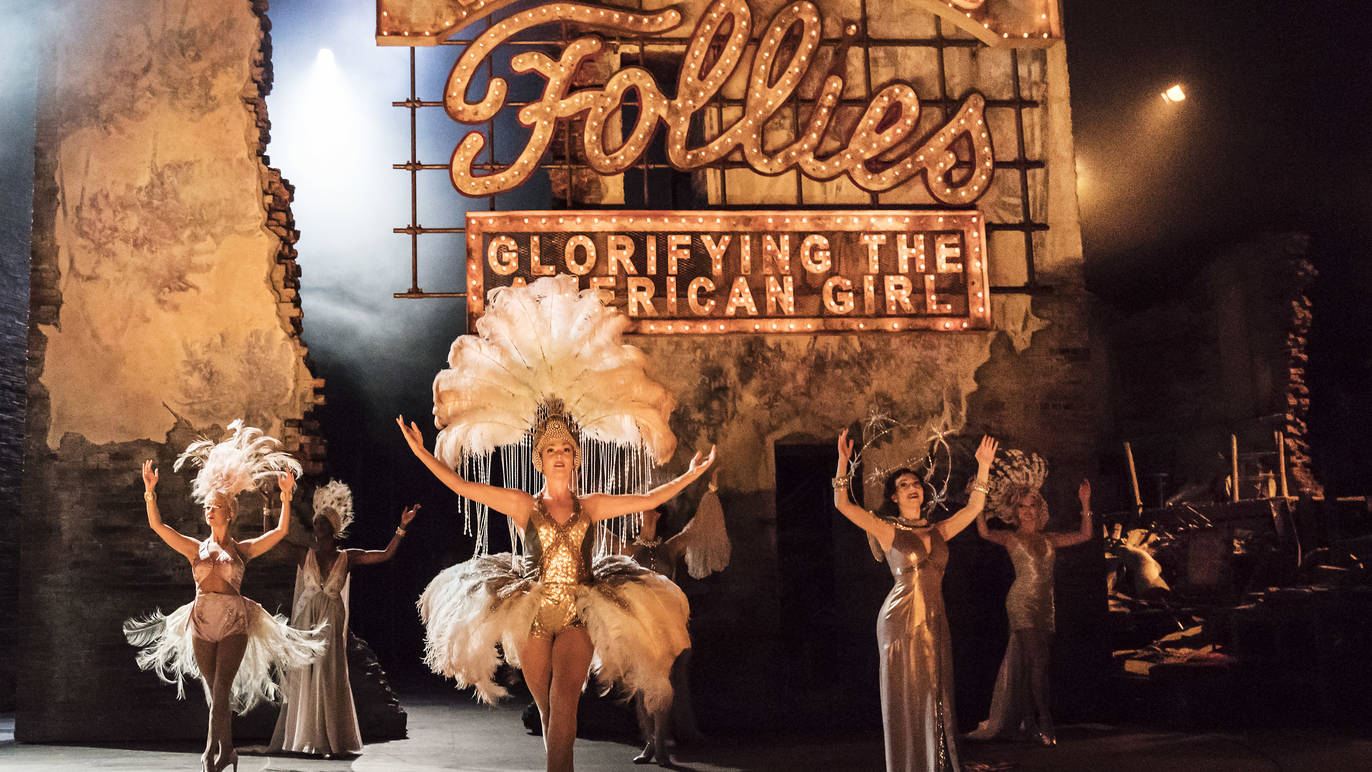 Tim Bano, The Stage
★★★★★
"Sondheim's deft imitation of Cole Porter, Irving Berlin, Jerome Kern, pastiche without ever being parody, tricks us into thinking that Follies is an old-fashioned musical. In fact, it kicks that yearning optimism into the gutter. Unlike other backstage musicals, Follies shows what happens when the scenery is dismantled, the adrenaline dissipated, the golden years dented and tarnished.
Past productions of Follies have tended to focus on the show's theme of regret, of old age reflecting on wasted youth. But Cooke makes this production less about the show's themes, and much more about the show itself. He doesn't ignore its reputation as one of the greatest musicals ever written, he celebrates it. The result is some Platonic ideal of Follies – and two hours 15 minutes of goosebumps."
Andrzej Lukowski, Time Out
★★★★★
"There's nothing like a Stephen Sondheim musical to make you wonder what the hell everybody else is playing at. Revived at considerable expense, with a lot of style, and a frankly extraordinary cast headed by Imelda Staunton and Janie Dee, 'Follies' is to the average West End song-and-dance show what Shakespeare's sonnets are to 'Love Island: The Reunion'.
'Follies' is an elegiac, eloquent work about age and disappointment, about the agonising clash between the fires of youth and the pragmatism of late middle age. It is about illusion and reality, razzle-dazzle and darkness. And it pierces both heart and brain in Dominic Cooke's towering NT revival."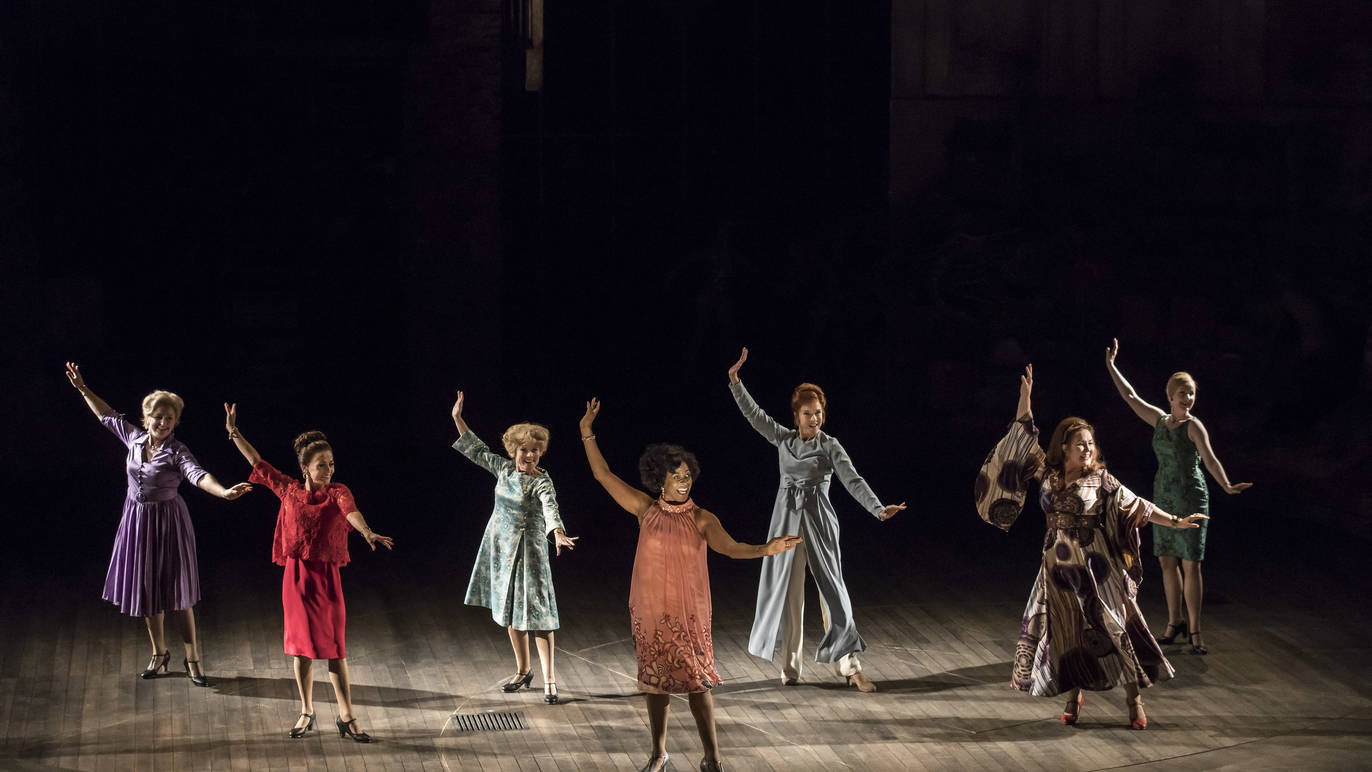 Henry Hitchings, Evening Standard
★★★★
"This production by Dominic Cooke certainly isn't the most opulent there's been, with a cast of thirty-seven and a twenty-one-piece orchestra (as against fifty and twenty-six in the original 1971 staging). But it's lucid, precisely choreographed by Bill Deamer, and above all gorgeously performed.
"It's the unsettling quality of Sondheim's score and lyrics that makes Follies such a distinctive musical. Blending clever pastiche with passages of uncomfortable introspection, it's a genuinely fascinating study of the dangers of nostalgia. "
Ann Treneman, The Times
★★★★
"Early on in this tribute to the old-fashioned Broadway revue, a character exclaims: "It's the cat's pyjamas." And so it is. This production is wildly traditional by the National Theatre's standard and the costumes, especially, are a joy. So this particular pair of cat's pyjamas would include a white ostrich feather headdress, balanced out by a tutu-type skirt of the same, with a galaxy of diamante in between."